Monsido Web Accessibility Features
---
Track Your Accessibility Compliance Progress.

Not all sectors need to meet the same compliance levels.
Monsido allows you to choose whether you want to check for
WCAG 2.1 or Section 508 accessibility issues.
You can easily track your accessibility compliance and
see your site improve with every issue you fix.
Accessibility Status.
Monsido organizes compliance standards by level (A, AA, and AAA).
Fix the low-level compliance issues first to see your site improve while
making sure that you're minimizing risk while your site is providing a
successful experience for everyone.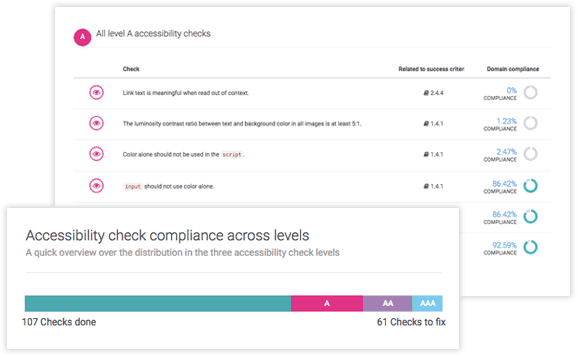 As necessary, you can work your way up to higher levels of compliance to build
a website which serves as a role model for other organizations in your industry.



---
Monsido identifies issues on your website

On page reporting makes identifying tricky accessibility issues effortless.
---
Personalize Your Website with PageAssist

Many organizations have websites that are visually inaccessible
for many users with disabilities.


Failure to address these barriers can be due to a lack of
technical understanding or because organizations do not want to
change the look and feel of their homepage.

PageAssist, an add-on to the Monsido web governance platform,
is a personalization toolbar that you can add to your website as an overlay.
The tool gives visitors with or without disabilities control over
the way they experience a website; display your website in a way
that is more usable and visually accessible.
By making your content available to a wider audience, you can better
achieve your business goals and tap into a wider market.

Simplify your website by parsing on-page navigation,
allowing your visitors to see everything from one simple view.
Users will be able to change the parsed website theme,
benefiting those with issues such as color blindness and other
visual impairments by allowing them to change the color scheme,
as well as the font and font size.
PageAssist is allowing website visitors to customize their
visual experience based on their own unique requirements
and ensures an equal experience for all your visitors.

PageAssist removes style sheets,
instantly enhancing readability for many users.

PageAssist allows website visitors to change or remove:

form elements


formatting


font color, size, and style

which makes it easier for them to consume the site's content.




Users will also be able to better isolate and see
menu items for better navigation.

Users can change your website's font into OpenDyslexic 3,
a typeface specifically designed to increase readability for
readers with dyslexia. Letters in this typeface have heavy
weighted bottoms to indicate direction.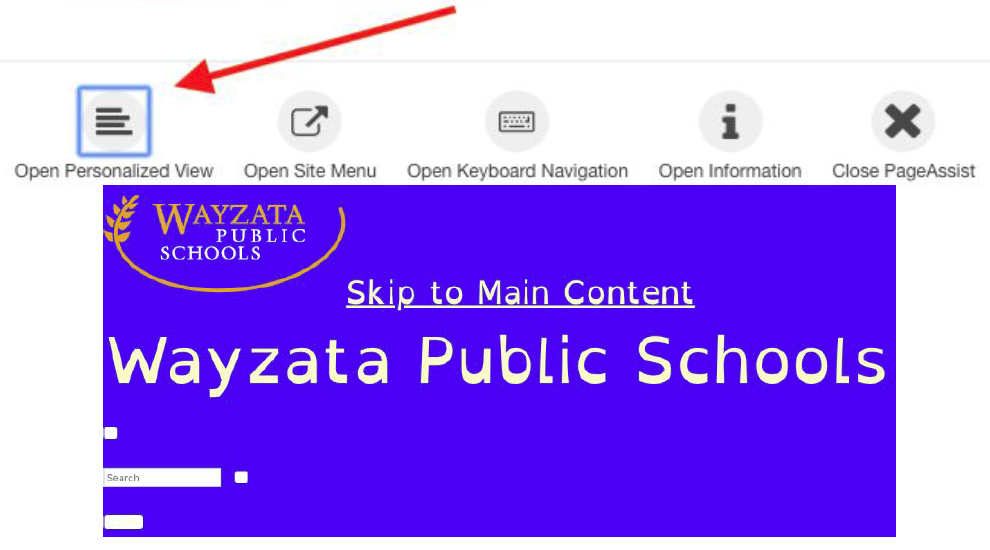 Users can quickly figure out which part of the letter is down,
which aids in recognizing the correct letter.
This helps keep users' brains from rotating them around
while also reinforcing the line of text.

PageAssist installs quickly and simply by adding
a small JavaScript on your homepage;
it will not affect the speed of your page.



---
Fix issues with PageCorrect

fix issues on multiple pages without leaving the Monsido platform


works for broken links, misspellings, and some accessibility issues


saves a ton of time


can fix a broken link or accessibility issue affecting
1,000's of pages in minutes!



---
Accessibility Help Center

We realize your content editors may not be accessibility experts,
so Monsido includes immense support, including a built in Help Center.

If you aren't sure how to fix an issue, just click on the Help Center icon and
you will get detailed information about the compliance issue,
instructions for remediation and even examples of code that can pass or fail.