---


Part of NewFormat AB Portal
---


---
OpenFormat
Products and Services
Offerings / Promotions / Prices
Guides and Datasheets
---
Customer Contact Form
Home/NewFormat
---
Streamlines and standardizes PDF
creation, print and publishing output and content correction workflows for
Adobe® InDesign®, Adobe® Illustrator®, Adobe® InCopy® and QuarkXPress®
---
axaio MadeToPrint
Intelligent Printing and Exporting
from your preferred layout and design applications
Our solutions are based on
tested, reliable, and highly accessible hardware and software solutions.
NewFormat is Appointed Reseller and Solution Partner in
Nordic (Sweden, Denmark, Finland, Iceland, Norway)
and
Baltic Region (Estonia, Latvia, Lithuania)
of leading PDF technology from axaio software GmbH.
---
axaio - intelligent efficiency
axaio software plug-ins enhance native capabilities and features of
Adobe® InDesign®, InCopy®, Illustrator® and QuarkXPress® environments.

(Click on any icon for more detailed product information)


Products
---


Click Here for Free Trial of axaio MadeToPrint
(You will be asked to fill in a trial request form.
To help us identify your software download and support you,
please enter the code NewFormat in the form field named Preferred Reseller).


axaio MadeToPrint
Intelligent Printing and Exporting

axaio MadeToPrint is the intelligent print, publishing and export solution for
publishers, printers, creative agencies, and for the packaging printing industry,
for output standardization, optimization and automation from within
Adobe® InDesign®, Illustrator®, InCopy® and QuarkXPress®.




The main objective of all versions of MadeToPrint is to standardize output processes so
that all different components needed for production are created according to the right
specifications, in the right locations and with a predefined standard naming convention.
This reduces errors and lead-times and as a result increases rentability of production.

Handling documents in multiple languages and versions is a challenge.
axaio MadeToPrint is the ideal gate keeper and offers streamlined and faultless production
with standardized file naming and path handling, adding info bars, handling language layers
and finally providing an imposed file ready for digital print output.
Needless to say that this adds a tremendous efficiency increase,
and considerable time and cost savings.



MadeToPrint enriches Adobe® InDesign®, Illustrator®, InCopy® and QuarkXPress®
with numerous professional output and conversion features,
including batch processing and hotfolder operation.
Optionally, MadeToPrint can be used in conjunction with editorial systems.


Efficient Layer Organization with MadeForLayers - Included for free in MadeToPrint:
When using MadeForLayers as a free part of MadeToPrint,
the different layer views can automatically be printed or exported to PDF,
instantly creating faultless output for all different language or regional versions.

Streamlined multi-channel output and quality verification
axaio MadeToPrint allows fully automated print and export from
the design document to one or more output targets.
This means that the same document can be exported to different
PDF versions, EPub and XML.
The automation process is based on an integrated hot folder support.



Especially for Adobe InDesign document types that contain a large amount of
InDesign master page objects, the "MadeToPrint Export to PDF" process
is highly accelerated, fastening the print production significantly.
In particular, customers with high-volume data-processing will benefit
from this as they can export larger amounts of documents in less time.

Quality verification is one of the most important steps in any publishing workflow.
The earlier sophisticated quality checkups in the creative workflow is performed,
the easier it is to correct mistakes saving time and costs.
Quality verification with MadeToPrint vastly enhances the reliability of PDF
generation and print output processes as well as export to different file formats;
among them EPUB.


Overall advantages:


processes big data volumes in a shorter time


saves costs while avoiding mistakes through a standardized workflow


minimizes repetitive tasks and the number of keystrokes


no repetitive control of settings saves time and secures the workflow


guarantees best output results through different quality checks


enhanced workflow through a centralized output administration


short time to Return-on-Investment (ROI)
---
axaio MadeToPrint - Three versions
axaio MadeToPrint Standard

Plug-in for Adobe InDesign, Illustrator or InCopy and an XTension for QuarkXPress
allowing manual, one-click, print and export from design documents
to one or more output targets.

Automation into workflows: No, interactive processing – "click to output".
Integration into workflows: No.

Details on Key Features in MadeToPrint Standard


axaio MadeToPrint Auto

Makes all functionality from MadeToPrint Standard available in a
fully automated way using integrated hot folder support.

Automation into workflows: Yes, uses hot folders and integrates with
Laidback Solutions FileTrain or Enfocus Switch.
Integration into editorial systems: Yes, integrates with:




Van Gennep PlanSystem


Quark Publishing System


Using job tickets


Details on Key Features in MadeToPrint Auto


axaio MadeToPrint Server

axaio MadeToPrint Server is an output server solution based on
Adobe InDesign Server and automates printing and output processes
in order to produce cost-effectively and at the highest quality level.

Automation into workflows: Yes, integrates with Adobe InDesign Server,
Laidback Solutions FileTrain or Enfocus Switch.

Integration into editorial systems: Yes, integrates with:




Van Gennep PlanSystem


Quark Publishing System


Using job tickets


Details on Key Features in MadeToPrint Server

---
Comparison of Automation Support in Standard vs Auto vs Server
Click on image for details on key features and differences


---
Fields of Application for axaio MadeToPrint in
Adobe® InDesign®/InCopy®/Illustrator® or QuarkXPress® Environments
For Publishers:
Publishing environments that use Adobe® InDesign®/InCopy®/Illustrator® or QuarkXPress®
as their publishing program simply need top efficiency in terms of production procedures.

Typically, several teams simultaneously work on a large number of documents.
Against the deadlines!
Today they still run into output flaws, misprints, issues with layers, etc…
even with leading layout and publishing tools.



MadeToPrint Auto and MadeToPrint Server solve current issues by automating,
extending, enhancing, and streamlining printing and output processes.
Predefined jobsets in MadeToPrint provide identical output from every file
for increased efficiency, as well as considerable time and cost savings.

Any publisher looking to standardize output in order to decrease
cost and errors should have a look at MadeToPrint.


For Printers:
For conventional or digital full service printers, the production processes leading
to the final printed document need to be as efficient and reliable as possible.
Especially when handling specialized documents in multiple languages and versions.



MadeToPrint is the ideal gate keeper and offers streamlined and
faultless production with standardized file naming, adding info bars,
handling language layers and finally providing a fully imposed ready to print file.
Needless to say that this adds a tremendous efficiency increase,
and considerable time and cost savings.


For Creative Agencies:
Inside agencies creative and production teams often struggle with insufficient or
unfriendly document output procedures inside industry leading publishing tools.



MadeToPrint relieves designers for all technicalities of preparing files for print.
It solves output flaws, misprints, issues with layers, etc. by extending,
enhancing, checking and streamlining all output processes.


For Packaging Design and Prepress Teams:
Today, Adobe Illustrator remains the tool of choice for the creation of packaging designs.
At the same time, PDF is gaining popularity as the file format of choice
for file exchange and review.



With MadeToPrint for Adobe Illustrator, axaio software provides a solution
to automate PDF output from Illustrator with all the advantages such as
cost savings and reduced errors.

For packaging design and pre-press teams, MadeToPrint is the perfect tool to
automate the creation of different packaging versions, standardize file naming
and increase output consistency.
Once an output specification is set up in a MadeToPrint JobSet all files
processed with that JobSet will consistently fit the same specification.

MadeToPrint for Adobe Illustrator also allows you to extract all kinds of versions
from the same master file, for example different language versions,
low resolution for customer approval, a technical specification version
for making the die cuts and more.

Packaging designers and pre-press professionals are now able to create
PDF files from Adobe Illustrator, without having to worry whether complex
layer structures are correctly handled, or whether naming conventions and
other production specifications are set correctly.


For Production:

Production managers can create output jobsets once, making them available to all users,
to get identical output from every workstation with one mouse click.



---

How to get standardized and quality-assured output using axaio MadeToPrint

MadeToPrint integrates with Adobe InDesign, Adobe Illustrator, Adobe InCopy, QuarkXPress
and provides very precise and flexible standardized output control from these applications.


Standardized how?


create an "Output setting"


use that output setting to generate output from InDesign, QuarkXPress,…


each output setting generates exactly one type of output




Output Setting:

Allows setting up:

preflight checks and updates to perform
before starting the output process


requested file format


options for that file format


where and with which name output should go


pre- and post-processing scripts


…


Output Set:

contains multiple output settings


use an output set to generate standardized
output for all output settings it contains


then, one keyboard click generates many different types of output


use page ranges from settings in Output Settings


Output settings and output sets only need to be created once

Can be exported and shared with others
Output Settings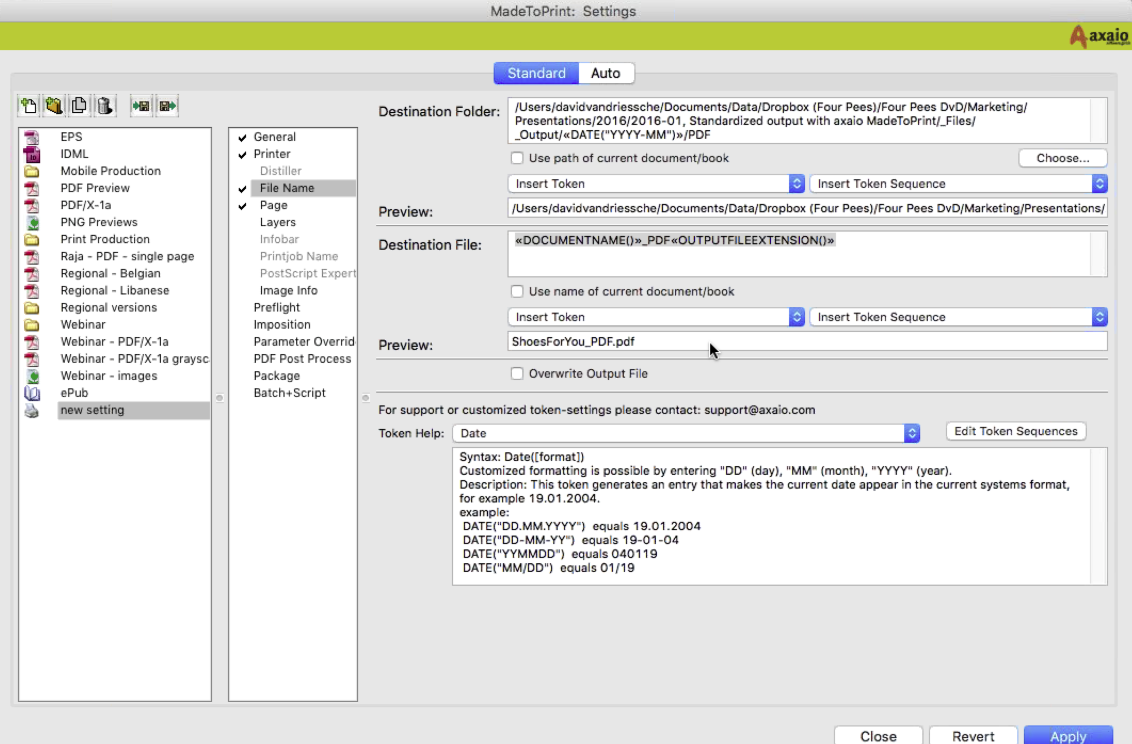 New feature: Use Page Ranges from Settings in Sets


Use the preset page ranges of each single job when executing a Set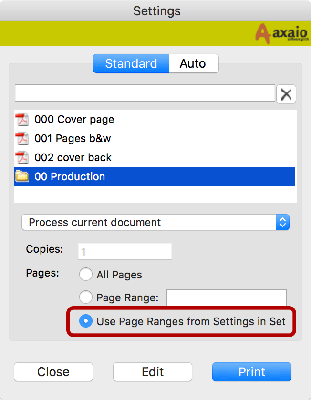 Possibility to define the page range of a document which needs to be output.
Previously one could only overwrite the page range of all MadeToPrint jobs,
which were combined in a MadeToPrint job set,
e.g. all jobs included in the set were executed with the page range 'all pages'.

The benefit of this new feature is that one can now output exactly
the defined page range of each single job in a set instead of
e.g. 'all pages' of all jobs in a set.
This new setting option means a boost of efficiency as well as a
more tailor-made and accurate batch processing in MadeToPrint.
---
Hot Folders Priorities Settings
(axaio MadeToPrint Auto and Server)
Allow defining different hot folders to automatically produce
output from Adobe InDesign jobs dropped into those hot folders.


Hot folders can be assigned different priorities which determine
the order in which folders are scanned and jobs are processed by MadeToPrint.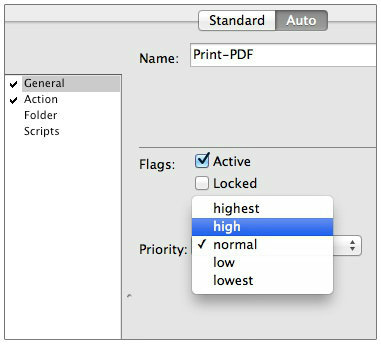 This allows setting up prioritized workflows;
hot folder setups to generate files to be archived can for example be given
a lower priority than hot folder setups related to urgent production work.
---
Image smoothing options when Adobe InDesign jobs
are exported to PNG or TIFF images
Image smoothing options when Adobe InDesign jobs are exported
to PNG or TIFF images; making such images more usable especially
when produced as thumbnails or preview images.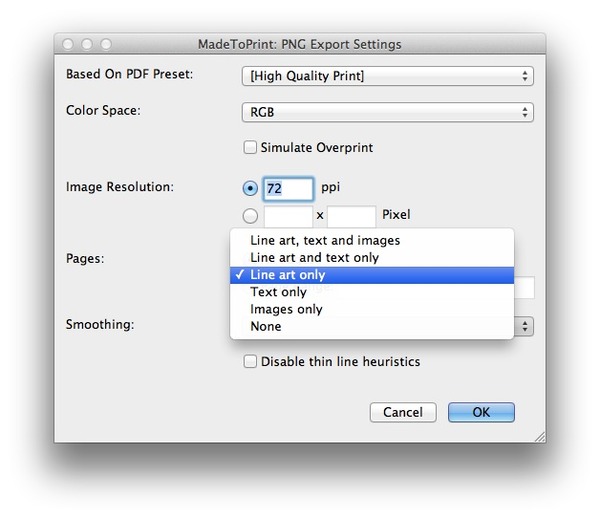 In workflows where layers and layer views are used,
export of specific layer views by name is supported to increase flexibility.
---
Tokens - Support for variables that allow flexible output settings
The purpose of MadeToPrint is to reduce errors and lead-times
and as a result increase rentability of production.

An important part of this process are tokens.
Tokens are variables that allow output settings in MadeToPrint
to be more flexible and to incorporate various pieces of metadata,
ranging from dates and times, over automatically increasing
numbers to information from editorial systems.

Tokens are available for many aspects of output settings.
They can be used to determine where files will be saved,
how their name will be created and more.
MadeToPrint contains built-in help to work with tokens and
allows predefined token lists for recurring needs.

Four important new tokens have recently beed added to provide information regarding


the number of files generated by an export setting,


the sequence in that output, and


the first and last spread number of the currently exported file.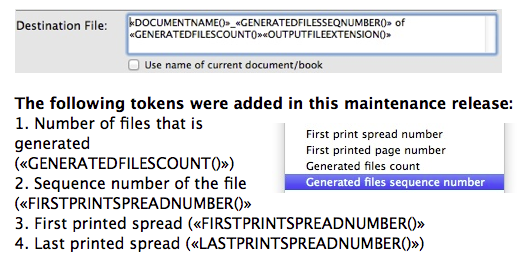 A new token (variable), called ScriptLabel,
has been added to MadeToPrint's token engine to e.g. standardize
the folder and file naming even more dynamically.

This token captures the content of an Adobe InDesign text frame,
labeled with a specific ScriptLabel, and imports it into the folder or file name.
This will give the user more options to adjust his workflow set-up
in a flexibel and tailor-made way.

---
Managing job configurations
News: Managing job configurations

MadeToPrint now comes with a configuration manager, which optimizes
the handling of different and complex customer or project configurations.
Each MadeToPrint configuration can be setup with all jobs
and job sets for a particular client, magazine, project etc.

Switching between configurations is easy and quick and configurations
can be exported and imported so that all settings for a particular project
are easily transferred from one system to another.

On top of that, MadeToPrint now also allows searching jobs and job sets.
Because the search system filters not only on name but on all properties of
a job or job set, it's an incredibly powerful way to find specific jobs or
job sets in a large configuration.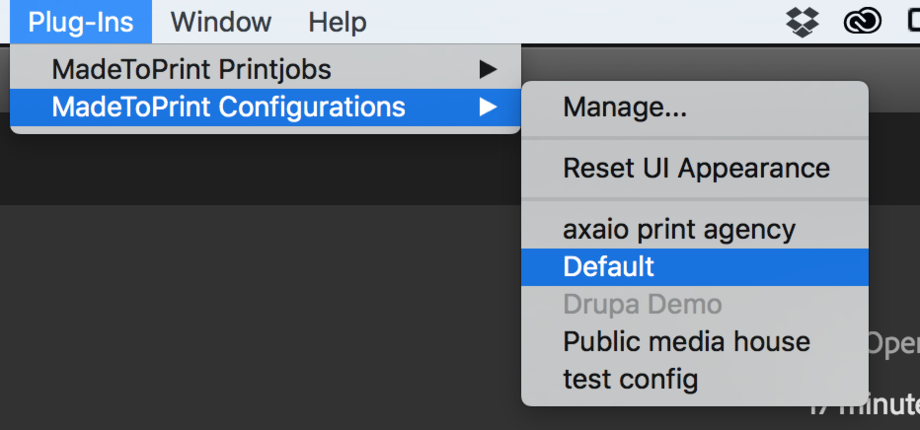 ---
MadeToPrint Export Formats
News: Exporting Adobe InDesign Files

MadeToPrint specializes in taking InDesign files and exporting them to various output formats.
What is less known is that MadeToPrint is also able to open IDML files and process those.
MadeToPrint can now also use native InDesign as output file format.

E.g. IDML files that need to be converted to INDD format,
can now simply be dropped into a MadeToPrint hot folder
and MadeToPrint will save proper InDesign files.
News: InDesign, Illustrator and Photoshop

MadeToPrint will undertake the tasks necessary to automatically receive
native Adobe InDesign, Illustrator and Photoshop layout documents
and export them into PDF.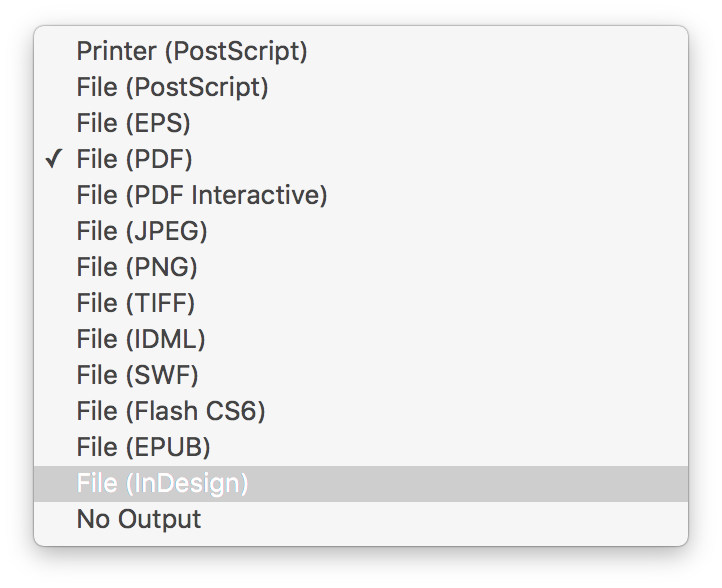 Advantages at a glance for users;


Automated PDF export from Adobe InDesign, Illustrator or Photoshop files.


Automated native file preflight in MadeToPrint before generating the PDF.


Time savings for more efficiency and enhanced usability.
News: Interactive PDF!

An often requested export format has been added: the interactive PDF.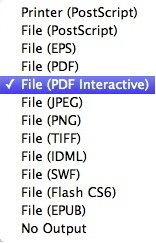 This gives users two possibilities;
to either export their Adobe InDesign document

as a print PDF, or


as an interactive PDF, which can be integrated into websites, tablets,
mailings, etc. making the content much more vivid and allowing
interactivity with the reader/viewer.

All interactive elements that are created in the Adobe InDesign document,
like for example 'buttons', 'forms', etc. are preserved in the interactive PDF.
---
Processing native files
News: Processing native files

The automated versions of MadeToPrint
(MadeToPrint Auto for InDesign and MadeToPrint Server for InDesign Server)
are now capable of automatically picking up images, Photoshop and
Illustrator files from hot folders.

These files are placed in a newly created InDesign document and from there
exported according to the settings of the specific job or job set.
For such native files MadeToPrint provides a completely automatic conversion to
PDF, image, PostScript or any other file format supported by MadeToPrint.
New user interface for MadeToPrint Server
The old user interface, which was based on Adobe AIR and Flash Player,
has been replaced by a native application.

For an easier set-up of the MadeToPrint Server configuration we do recommend
all customers who are using MadeToPrint together with Adobe InDesign Server
to install the current Server UI for MadeToPrint. It offers much more comfort
when configuring MadeToPrint Server and is above all much faster.

In addition, it offers more options for further development and
can therefore be adapted more flexibly to customer requirements.
It is also planned to further extend the UI in the coming months
into a kind of 'control center' in order to provide the customer with a
comprehensive response to the status of the processing in the current workflow.
MadeToPrint Server UI v1.0.003 can be installed separately,
regardless of which InDesign version the customer is working with.


axaio MadeToPrint for WoodWing Enterprise Publishing System
+
+
WoodWing simplifies modern publishing workflows and makes
digital channels an integrated part of the publishing process.

MadeToPrint Auto/Server for WoodWing Enterprise is an intelligent
printing and exporting add-on for Adobe InDesign allowing powerful
output workflows for multichannel publishing.

The integration of MadeToPrint in Woodwing Enterprise guarantees
a very high level of production safety to ensure a reliable output workflow
with a maximum of efficiency.

MadeToPrint Auto Enterprise for Adobe CC 2018 and
MadeToPrint Server Enterprise for Adobe InDesign CC 2018 Server
are compatible with WoodWing Enterprise for Adobe's Creative Cloud version 2018.

With MadeToPrint for WoodWing Enterprise, publishers can continue to
standardize and optimize their print and export processes in order to
decrease cost and errors, and publish more efficiently, whether producing
newspapers, magazines, catalogues, sales and marketing material,
annual reports or books.

MadeToPrint for Woodwing Enterprise relieves designers from all
technicalities of preparing different file formats for print (e.g. PDF).
It solves output flaws, misprints, issues with layers etc. by
extending and streamlining output processes.
Production managers define tailor-made output job sets,
making them available to all users, to get identical,
consistent output results from every workstation
- fully automated, without manual assistance.

Fully integrated in WoodWing's multi-channel publishing system,
reliable and effective output procedures are guaranteed.
Based on meta data information MadeToPrint jobs can be processed status-based
directly from within the WoodWing publishing system - automatically 24/7.
Users will receive a confirmation for the successful export execution or
an error message, without having to leave Adobe InDesign.

WoodWing Enterprise and MadeToPrint complement each other
perfectly in the automation and standardization, one of the most
fundamental aspects of the production workflow: the edition.


MadeToPrint for vjoon K4 Publishing System
+
+
axaio MadeToPrint Auto K4 and Server K4 are now available for
vjoon K4 for Adobe Creative Cloud 2019.
MadeToPrint K4 is an Adobe InDesign plug-in that enables K4 users to export
highly automated and standardized file formats directly from within
the K4 editorial database.
It is available in two different automation versions, Auto or Server,
depending on the customer's automation demand:

MadeToPrint Auto K4 is an Adobe InDesign desktop extension
to achieve an automated, status-based output from within
vjoon's publishing system K4.
K4 users benefit from the advantages of MadeToPrint output capabilities
that are fully integrated into their editorial workflow,
ensuring a reliable and effective output process.
This way, publishers can streamline print and export operations
for any publication format, adding tremendous efficiency and
considerable time and cost savings.


MadeToPrint Server K4 is suitable for companies
with high-volume data processing.
K4 is controlled via a MadeToPrint job ticket mode and allows
the automated output of Adobe InDesign layouts directly from
within the editorial database.
With MadeToPrint Server for K4, users of vjoon's publishing system can
profit from the power, performance and stability of Adobe InDesign Server
as well as the efficient MadeToPrint output capabilities.


axaio MadeToPrint Auto and Server supports Enfocus Switch version 2019

+


axaio MadeToPrint & Enfocus Switch
the perfect automation solution for publishing and packaging workflows.
Creative and production teams in publishing and packaging environments
invest a lot of time and effort in enhancing document output procedures
from within different layout applications.
They often struggle with output flaws, misprints and time loss.
axaio MadeToPrint for Switch solves these issues by extending, optimizing and
streamlining printing and output processes from within the customer's
favorite layout application through a Enfocus Switch flow.

Offers highly customizable print and export.
The configurators allow MadeToPrint to be integrated as a
component in Switch (work)flows via drag-and-drop.
Selecting a print job, MadeToPrint controls the print and data output
directly from within Enfocus Switch.
Using the MadeToPrint configurators, Switch users can automatically
create standardized and reliable PDF output flows without having to
open the native layout documents manually.

axaio MadeToPrint provides options like preflighting documents,
checking and updating them for missing links or fonts,
dynamic definition of file and folder names using tokens (variables),
batch processing and individual layer handling, especially useful for
production of multilingual documents.

Furthermore, MadeToPrint combines time consuming individual steps,
such as proofing, printing and creating PDFs of varying resolutions before
finally archiving, into one single job, to process them all together in one go.
Users can execute MadeToPrint jobsets to simultaneously control any number of output.
As such, MadeToPrint can handle multiple tasks and output combinations
in parallel for highest efficiency.
All jobsets are saved centrally and can be used by all employees.
This way consistent results are guaranteed!



---
For more information contact NewFormat
---
NewFormat AB
Smörblommegränd 14, SE-165 72 Hässelby (Stockholm), Sweden
tel:+46 (0)70 631 53 01

All content © copyright 2008-2019 NewFormat AB. All rights reserved.
---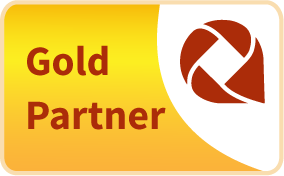 axaio software Gold Partner