axesPDF®
The professional remediation tool for accessible PDF that comply with
ISO Standard PDF/UA-1 (ISO 14289-1), WCAG 2.1, and U.S. Section 508
axesPDF is your time-saving tool to check and remediate PDF documents
during the process of making them fully accessible and compliant.

Accessibility issues are easily found and most of them
are fixed instantly with a single click.

axesPDF installs as a standalone Windows application: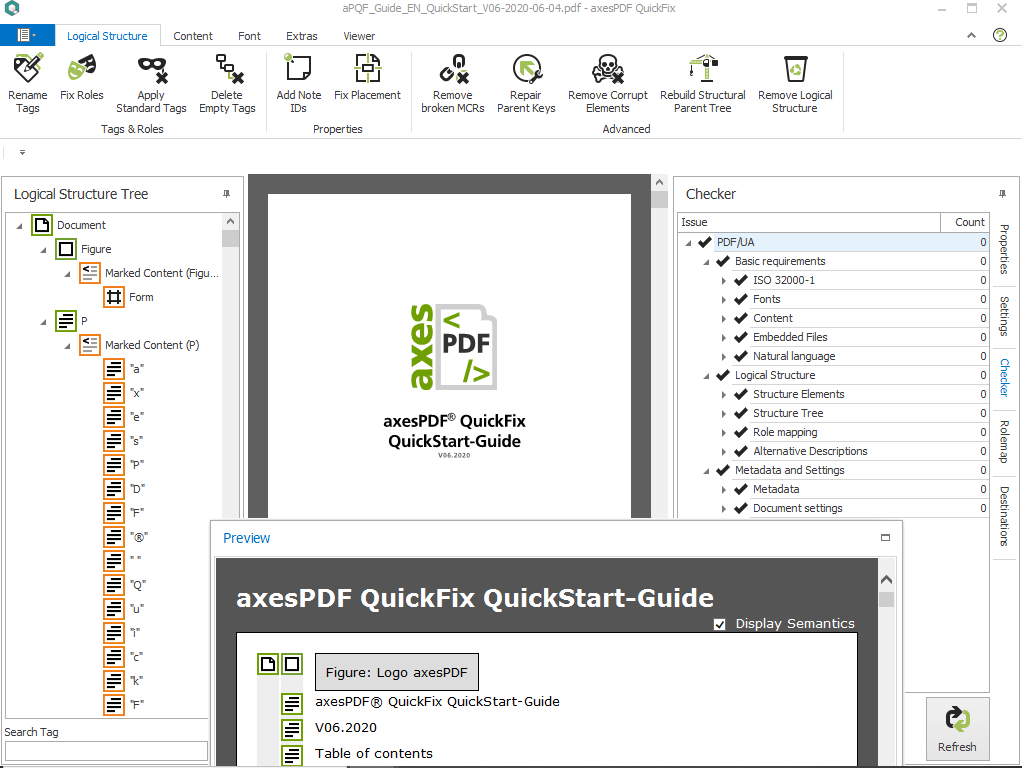 Click on image
axesPDF Dashboard
With available mainstream programs in the fields of word processing,
desktop publishing or PDF editing it is not possible to implement
lean PDF accessibility workflows. axesPDF fills this gap.

axesPDF is for all accessible PDFs (and Workflows)
- you need it especially for accessible PDF documents created
with Adobe Indesign or Acrobat.

No matter if you create an accessible PDF to be published with
Adobe InDesign, Acrobat or MS Word, axesPDF® is a short cut
if you want to achieve PDF/UA conformance.




Important.
Precondition for working with axesPDF is that
your PDF document has already a tag structure.
If this is not the case then first create a PDF with tags,
either from converting the source document or
with a PDF editor.



---
axesPDF as short cut

The checking & remediation tool axesPDF helps accessible
document authors reaching fully PDF/UA compliant documents with ease.
You can use it at the end of your InDesign, Acrobat or Word workflow.

Usually you start with the PDF/UA check.
Then you look at the errors, choose the corresponding commands and fix them
- in most cases only with one click.

If you have tagged PDFs but you need to remediate fonts, spacing,
structural tags tree errors or have lots of complex tables,
axesPDF is the tool for you.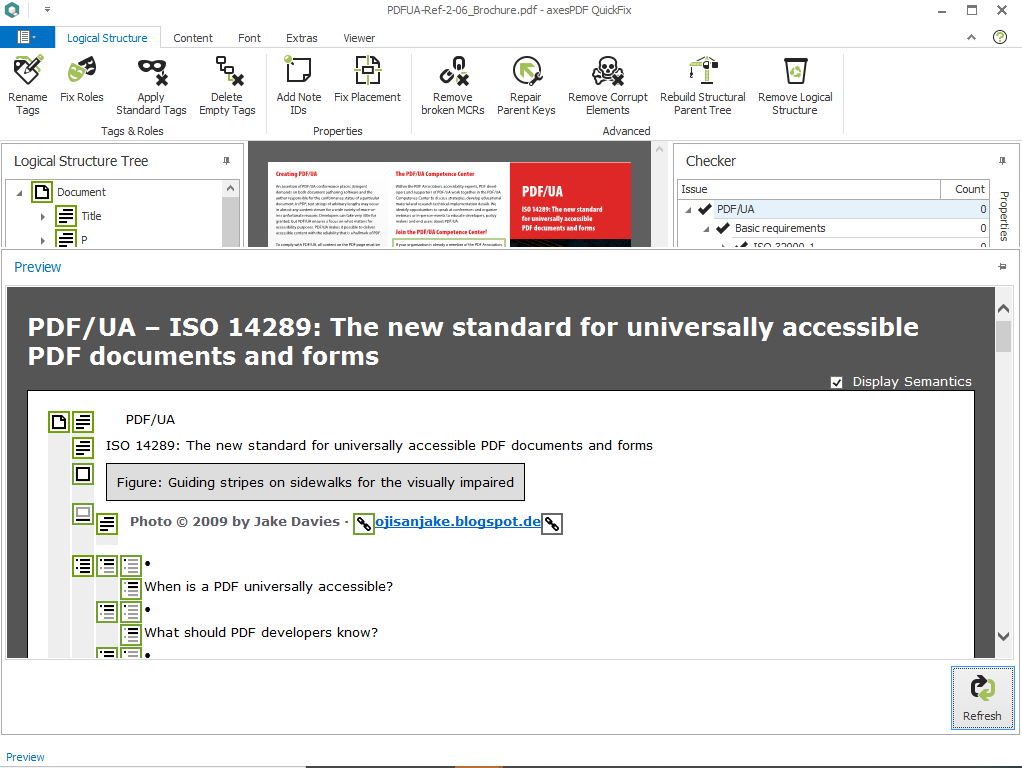 Click on image
Example of a correctly tagged PDF document and its structure tags
---
Features

axesPDF® is a box full of tools for
the professional quality assurance of accessible PDF.
All tools are great timesavers and enable a lean correction workflow.

axesPDF in a glance:

Tool for checking and remediation in one step


The professional version of:

PDF Accessibility Checker (PAC)



Automated PDF/UA-check


Interactive report of all PDF/UA issues with help how to fix it


A lot of 1-click-fixing buttons (for the complete document)


Fix PDF/UA issues - in many cases by using 1-click-fixing button


Advanced correction of tag properties & attributes
(for one element or for several elements)


Simplified structure view for a quick visual evaluation (Screenreader-Preview)


Clear expert view for specific diagnosis:
Logical Structure / Document View / Properties / Role Mapping


Create nested bookmarks based on heading tags


Edit document properties


Prepare PDFs for proper tagging





User interface and buttons - an overview

1-click-fixing buttons
- axesPDF® offers a lot of 1-click-fixing buttons like:

Mark all non-tagged elements in the document as artifacts with one click


Insert missing spaces (between words) - on the content level


Add IDs to every Note-Tags


Add link descriptions


Add the PDF/UA-identifier




Complete PDF/UA-check - automated & human

Some PDF/UA requirements can be checked by a machine.
But there are also requirements that have to be checked by a human.

Therefore both is necessary:
an automated PDF/UA-check and an additional visual evaluation of the PDF.

All machine-checkable checkpoints

In axesPDF® an automated PDF/UA-check (Tab Checker) is included.
It covers all machine-checkable checkpoints of the Matterhorn Protocol.



Tools for the visual evaluation

For the additional visual evaluation - essential part of every PDF/UA-check -
there are two complementary tools in axesPDF®:

Ribbon tab: Preview:

a simplified structure view for a quick visual evaluation
(for example: evaluation of the semantics)



Ribbon Tab: Logical Structure Tree:

an expert view of the Logical Document Structure for a
specific diagnosis and check of the logical order in
combination with a parallel document view.




Interactive report of all PDF/UA issues with help how to fix it

Diagnosis made easy: Clickable issues in the accessibility report lead
directly to the corresponding locations in the document view and
in the Logical Structure Tree.

By using the F1-key you can get useful hints,
how to fix a specific PDF/UA issue.




Fixing PDF/UA issues - in many cases by using 1-click-fixing buttons

What is the use of a detailed accessibility report anyhow,
if the fixing of the issues is much to time-consuming or complicated
- at least for an average user?

For such cases axesPDF® offers a lot of 1-click-fixing buttons
like for example:

Add PDF/UA identifier


Reset Zooms


Set Contents key of Link annotations


Set Tab Order




If you cannot fix the issue with one click,
you find task panes in axesPDF®,
that help you to fix the issue - like for example:

Add Bookmarks


Create Destinations


Fix Roles


Insert Spaces


Remove Language Assignments


Rename Tag



---
Key Benefits

The user interface is optimized for remediators


You can fix PDF/UA issues that other tools cannot fix


You can fix PDF/UA issues with one click
that other tools have to fix manually one by one


You save massively time during the process of quality assurance


The evaluation and analysis is simplified



---
System Requirements

axesPDF installs as a standalone Windows application.

Supported operating systems:

Windows 8.1 Service Pack 1 (SP1) (64 Bit)


Windows 10 (64 Bit)


Windows 11 (64 Bit)




Additional requirements:

Additionally, the following programs
have to be installed on your computer:

ASP.NET Core Runtime 3.1 (Hosting Bundle)


.NET Desktop Runtime 3.1


.NET Framework 4.8