Our solutions are based on
tested, reliable, and highly accessible software solutions.
NewFormat is Appointed Reseller and Solution Partner in
Nordic (Sweden, Denmark, Finland, Iceland, Norway)
and
Baltic Region (Estonia, Latvia, Lithuania)
of leading CommonLook PDF technology
from NetCentric Technologies Inc., USA.
---
Products
---

Request Trial of CommonLook Office
CommonLook Office plugins enhances native accessibility
capabilities and features of Microsoft Office

CommonLook Office is an add-in to Microsoft Word and PowerPoint
that enables organizations to ensure the creation of accessible PDF
documents and forms without prior knowledge of accessibility.

With CommonLook Office, content authors can immediately begin
making high-quality accessible PDF files that conform to ISO PDF/UA,
WCAG 2.0AA, U.S. Section 508, and/or U.S. HHS specifications.

In the near future,
CommonLook Office will be supporting WCAG 2.1 for document authors.

CommonLook Office plugin enhances native capabilities and accessible PDF
functionality of Microsoft Word (.doc & .docx) and PowerPoint (.ppt & .pptx),
or Adobe Acrobat Portable Document Format (.pdf).
The Proactive Approach - Build Accessibility into Documents Early

CommonLook Office enables authors to design documents with
accessibility in mind, saving time and effort later in the process.
A user simply inputs vital accessibility information,
prior to producing the Portable Document Format (PDF) file.
An add-in for Microsoft Word and PowerPoint that is
accessed in the toolbar of Microsoft Office and is intended
to be used as part of the verification and creation of any
document that will be saved as an accessible PDF.

Word and PowerPoint source documents are also saved in a
more accessible format by using CommonLook Office in
the authoring process and following best practice for authoring.


Fast and intuitive
- does not require prior knowledge of
accessibility software or standards


Test and fix accessibility issues in the source file
(Microsoft Word or PowerPoint)


Ensures maximum accessibility in new PDFs,
at the lowest possible cost
Create Accessible Documents Easily

CommonLook Office is the most effective way to create
accessible document standards-compliant PDF files directly
out of Microsoft® Office (doc, docx, ppt & pptx) source files.

Users are guided through the process of making accessible PDF documents
that accurately comply with current standards for accessible documents:
the ISO PDF/UA, WCAG 2.0AA, U.S. Section 508, and/or U.S. HHS.

In the near future,
CommonLook Office will be supporting WCAG 2.1 for document authors.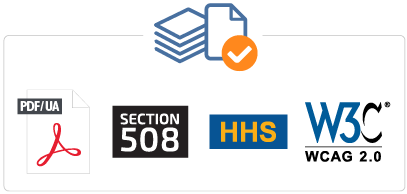 Easy-to-use for new staff, yet powerful enough for advanced users


Exceeds the native accessible PDF functionality of
Microsoft Word (doc & docx) and PowerPoint (.ppt & .pptx), or
Adobe Acrobat Portable Document Format (.pdf)


Quickly identifies and helps fix accessibility compliance issues,
automating most tasks


Achieve compliance at reduced costs by lowering
the expense of accessibility repairs to existing documents
How it Works?

When CommonLook Office is launched and the user
chooses the appropriate accessibility standard,
the wizard then tests the document against that standard.
Any issues, or potential issues, are brought to the user's attention
so that they can be addressed prior to PDF generation.
After all of the concerns have been addressed and corrected,
a tagged, accessible, compliant PDF is created.

In addition, a report may be generated to certify that
the PDF document has indeed passed all of the checkpoints
relevant to the selected accessibility standard.




Step-by-step-guide:
Launch CommonLook Office from within Microsoft Word or PowerPoint


Select the appropriate accessibility standard for compliance
(e.g. PDF/UA, WCAG 2.0, HHS, or Section 508)


Test and fix identified accessibility issue(s) a listed on the checkpoint


Once all applicable checkpoints are complete,
CommonLook Office converts from Microsoft Word or Powerpoint
(.doc, .docx, .ppt or .pptx) to accessible PDF
Key Features:

Conversion of Microsoft Office Document to Accessible PDF

Support for Microsoft Word (.doc & .docx) and PowerPoint (.ppt & .pptx)


Easy to learn and use,
with step-by-step guidance through the checkpoints


Create documents that conform to leading standards:
PDF U/A, WCAG 2.0 AA, Section 508 or HHS


Content preparation checkpoints for most situations


Complete verification
- detailed coverage of all conformance criteria
for the chosen standard


Style mapping
- manage style usage and mapping to PDF tags


Table formatting
- manage simple, complex, and presentation tables


Upgraded user interface with improved checkpoints
and all-new documentation
Workstation System Requirements

Microsoft Windows 10, 8, 7, Vista or XP


Microsoft Office


Adobe Acrobat 6.0, 7.0, 8.0, 9.0, 10.0 (Acrobat X),
11.0 (Acrobat XI), or Acrobat DC - Standard or Professional



CommonLook Software Tools

We also offer CommonLook industry-leading software tools
to help automate the accessibility testing and remediation.

For more information contact NewFormat
---
NewFormat AB
Smörblommegränd 14, SE-165 72 Hässelby (Stockholm), Sweden
tel:+46 (0)70 631 53 01
All content © copyright 2008-2023 NewFormat AB. All rights reserved.
All product names, trademarks and registered trademarks
are property of their respective owners.
---


CommonLook Software and Services Partner