---

Part of NewFormat AB Portal
---


---
OpenFormat
Products and Services
Offerings / Promotions / Prices
Guides and Datasheets
---
Customer Contact Form
Home/NewFormat
---
NewFormat AB
NewFormat make PDF information permanently
accessible, searchable, readable and reusable
for the future and for as many people as possible.
We create accessible PDF in compliance with the ISO Standard PDF/UA.
Our solutions are based on
recognized ISO Standards based on PDF technology
and tested, reliable, and highly accessible software solutions from
the PDF Association vendor community.
---
Accessible PDF
---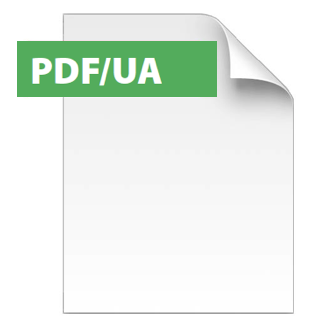 Accessible PDF as a Service - PDF/UA Services

In Compliance with the ISO Standard 14289 (PDF/UA),
PDF for Universal Access
---
Accessible PDF as a Service
Within budget and time frames
Accessible PDF as a Service is for anyone who does not have the
opportunity to create accessible PDF files on their own,
but who nevertheless want PDF documents to comply with
accessibility regulations and standards.

Our services can regularly scan and crawl websites, internal networks,
file systems, folders, files,... to locate existing document issues and
compile an issue-report based on the findings.
The report indicates the accessibility status of the PDF documents over time;
including measures needed to remediate PDF documents for full PDF/UA compliance.

Following the standards is the only way to reduce your liability and
provide the most accessible versions of your PDF documents.

The easiest way to determine if your PDF documents are 100% compliant
is to ask NewFormat for a PDF document accessibility audit that proves
compliance to the accessibility standard you have requested.




We can validate/provide documents in compliance with following Standards:

Structural

ISO 32000-1 and ISO 32000-2 (PDF)



Accessibility

ISO 14289-1 (PDF/UA),


W3C/WCAG 2.0/2.1 (A and AA),


U.S. Section 508 and U.S. HHS.




Examples of services:

Validation and Remediation:
Testing, validation and remediation for PDF/UA compliance.


Quality Assurance:
Verification of PDF/UA conformance based on
the Matterhorn Protocol's set of checks.


Resource Mapping / Audit Scanning:
Audit mapping and continuous monitoring of a business
document resources with regard to accessibility.


Accessibility Report
Input/documentation for annual mandatory accessibility report
according to the EU Web Accessibility Directive.


Accessible PDF from databases:
Scalable high-volume production of accessible
PDF documents from database systems.


Training:
Provision of comprehensive education in
PDF accessibility and PDF/UA tools.


Coaching:
Provision of online interactive services to assist
in learning how to make PDF documents accessible.





---
Accessibility Report

According to the EU Directive shall a public entity on it's website provide an
accessibility report on the accessibility of its websites including PDF documents.

The report must include, among other things, a statement of contents on
the site that is inaccessible and a link to comment on deficiencies.

The accessibility report must be published at the latest when
the site requirements must be met.




Interesting?



---
Accessible PDF as a Service - Our experts create accessible PDF for you
Provide us with the PDF dokuments,
or even with MS Office Word/PowerPoint, Adobe InDesign sources files,
you want to be verified and repaired for accessibility and compliance.

This could be a list of URLs of website(s)/domain(s);
alternatively put the documents in a Dropbox folder.



We will provide you with a fixed, firm quote to ensure their
compliance with preferred standard.



Upon approval of the quotation,
we perform the remediation to conform to accessibility standards
and return the fully accessible compliant PDF to you.



Upon request,
we can provide a comprehensive compliance report for each document.
Interesting?
---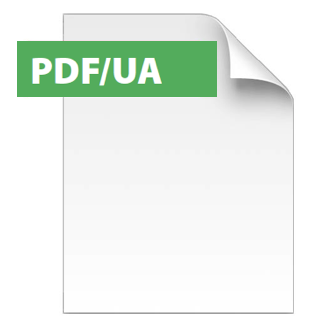 Recommended Reading on PDF/UA
The ISO Standard for Accessible PDF Documents and Forms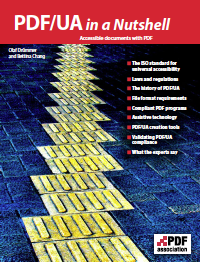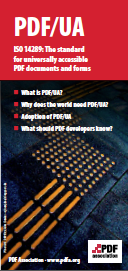 (For download of these guides, click on the pictures above)
---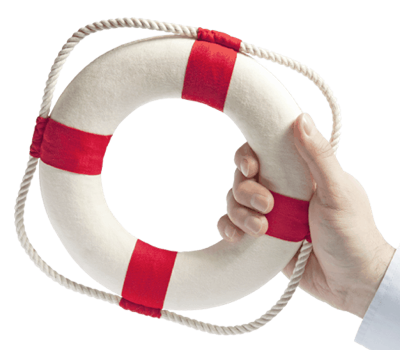 Do you need help to create accessible PDF in compliance with PDF/UA?

Accessible PDF (PDF/UA) ensures accessibility to digital public service for everyone.

We help customers to create any volume of accessible PDF documents,
out of native MS Office (Word and PowerPoint) and Adobe InDesign documents,
and PDF documents generated by other tools.




Interesting?



---
More Information and Resources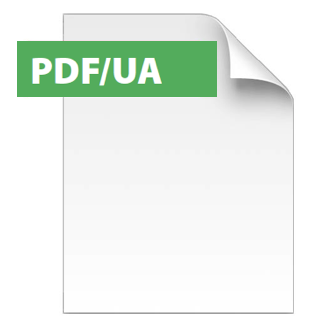 Accessible PDF - Requires Full Compliance with PDF/UA




Accessible PDF (PDF/UA) for Accessible eGovernment




Samples of Accessible PDF Documents - Accessible for Everyone!




Tools for Creation of PDF/UA-Compliant PDF Documents




Training in PDF Standards




Next-Generation PDF



---
Samples of Inaccessible PDF Documents - Not Accessible for Everyone!
---
For more information contact NewFormat
---
Smörblommegränd 14, SE-165 72 Hässelby (Stockholm), Sweden
tel:+46 (0)70 631 53 01
All content © copyright 2008-2021 NewFormat AB. All rights reserved.
All product names, trademarks and registered trademarks
are property of their respective owners.
---