---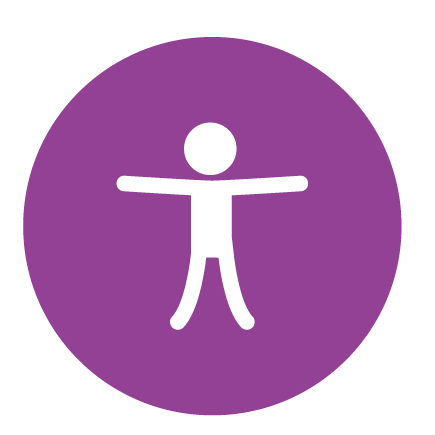 Accessible Web
Web accessibility is about creating ONE web experience for everyone
regardless of ability or disability.
---
Accessible Web
Requires Compliance with the W3C/WAI/WCAG Recommendations
The Web Accessibility Guidelines (WCAG), defined by
the World Wide Web Consortium (W3C) / the Web Accessibility Initiative (WAI),
has four principles which state that websites must be POUR
(Perceivable, Operable, Understandable, and Robust).

There are a total of 13 guidelines under each of these principles.
In order to make sure a website is meeting these guidelines,
there are a total of 78 testable "success criteria".

These principFles and guidelines defines the requirements that must be
considered when a website must be universally accessible for everyone;
with or without disabilities.

There are three levels of web accessibility established under WCAG.
Level A is the least strict. Level AAA is very strict.
If you meet level AA, it means that you meet all of the criteria of level A and level AA.
If you meet level AAA, it means meeting the criteria of levels A, AA, and AAA.

It is very difficult (time and labor intensive) to always be in compliance with level AAA.
Most companies and organizations worrying about accessibility should strive for level AA.
At this level, they will be legally compliant in most countries, can avoid lawsuits,
and provide a good experience for all users.

(See also our solutions and services for Accessible PDF (PDF/UA).)



---
Implementation of Accessible Web within The European Union
The EU Directive 2016/2102 of the European Parliament and of the Council
on the accessibility of the websites and mobile applications of public sector bodies,
also known as the European Union (EU) Directive on the Accessibility of Websites and
Mobile Applications, was created as part of the EU Commission's work on developing
societal and digital inclusivity within the European Union.

The Directive aims for the standardization of accessibility laws
across the EU and came into effect on October 2016.
The Directive covers the accessibility of websites and mobile applications
of public sector bodies for persons with disabilities.

The Directive is based on the four principles of the WCAG,
which will thus require public sector websites to ensure that they are
POUR (Perceivable, Operable, Understandable and Robust).

The standards that EU member states will have to comply with are
the WCAG Level AA as a minimum.




The Directive, unlike a regulation, is not imposed as a law,
but instead binds member states to the adoption of it into national law.

The Directive is adopted by EU member states with this timeline for compliance:

New public sector websites must conform by September 23, 2019


All public sector websites by September 23, 2020


All public sector mobile apps by June 23, 2021


Member states will be required to monitor and report
the accessibility of the websites and mobile apps of public entities.




The EU Directive was implemented in Sweden January 1, 2019 as
"The Swedish Act on Access to Digital Public Services"
(SFS 2018:1937 & SFS 2018:1938)

Sweden as a nation is also bound to:

the UN Declaration on Human Rights,


the UN Convention on the Rights of Persons with Disabilities,


the Swedish Anti-Discrimination Act





---
Why conformance with W3C/WAI/WCAG is relevant and of importance

Barriers that prevent interaction with, or access to a document or website
by people with disabilities can be considered discrimination.

Legal requirements for accessibility to digital information for everyone in the society
ensures that all users, regardless of functional ability, have equal access to
information and functionality on the web and in PDF documents.

Successful e-government presupposes that all digital government information
is accessible for all citizens - the success is dependent on "Accessible Web".

Accessible Web is fundamental for barrier-free access to digital information from
eGovernments/public administrations and enterprises serving the public sector.

Websites complying with W3C/WAI/WCAG for "Accessible Web"
are universally accessible for everyone.



---
Who has reason to care about W3C/WAI/WCAG?

W3C/WAI/WCAG is of interest to all entities, in public sector and elsewhere,
concerned with conformance to regulations requiring access for everyone
to websites based on HTML-technolgy.

Also entities serving the public sector, like media service providers,
advertising/communication agencies, banks, insurances agencies,
and representatives of associations and institutions as well as students and
lecturers at colleges and universities increasingly consider it their duty to
have their written materials available as accessible documents.

Are you confident your organization uses the right tools and services
to guarantee your website is compliant with the W3C/WAI/WCAG?