---


Part of NewFormat AB Portal


---


---
OpenFormat
Products and Services
Offerings / Promotions / Prices
Guides and Datasheets
---
Customer Contact Form
Home/NewFormat
---
NewFormat AB PDF standards make the world work


---



Our solutions are based on
tested, reliable, and highly accessible software solutions.
NewFormat is Appointed Reseller and Solution Partner in
Nordic (Sweden, Denmark, Finland, Iceland, Norway)
and
Baltic Region (Estonia, Latvia, Lithuania)
of leading PDF solutions from Foxit Software.
---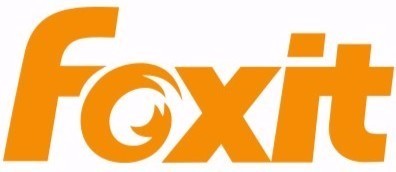 PDF solutions for all your needs
---
Foxit PDF Compressor
Multi-sector, production-oriented application for reading documents,
compression them and converting them to PDF or PDF/A.
(Earlier known as LuraTech PDF Compressor)
"Everything to PDF/A"
---
Foxit PDF Compressor v8
Enterprise OCR and PDF Converter
---
Products
Foxit PDF Compressor
---

Click Here for Free Trial of Foxit PDF Compressor
(You will be asked to fill in a trial request form.
To help us identify your software download and support you,
please enter the code Preferred Reseller NewFormat, Sweden
in the Telephone form field, besides entering you phone number).
Foxit PDF Compressor
converts scanned and electronic documents
into highly-compress PDF or PDF/A files.
Easily integrated into workflows,
the Foxit product family uses the award-winning
Mixed Raster Content (MRC) compression technology to
convert colour, greyscale or black/white scanned documents
into high-quality, highly-compressed PDF and PDF/A files.
Typical compression rates of 1:100 or greater:
Mixed Raster Content (MRC) Compression Technology:

1. Foreground Image - Color of text and graphics

2. Mask - Text and graphics shapes

3. Background Image - Background and images



Samples:

Foxit PDF/A Compared with Conventional Formats:

Scanned page: 300 DPI, full-color RGB, A4 size.





Foxit PDF/A Compressed Document:

Compressed document



Uncompressed document, size: 406 MB, format: TIFF, 300dpi.
Compressed document, size: 944 KB, format: PDF/A-2u.

Open the sample document in Adobe Reader to view compressed file,
press INFO button to see the format,
press LAYER button to switch between 3 layers enabling the high-compression.



Foxit PDF Compressor Highlights

Support for Long-term Archiving

Foxit PDF Compressor generates ISO-conformant PDF/A documents
and therefore ensures that it will be possible to display, read and
retrieve these in the long term.



Support for Full Text Searchability

The Foxit products include the ABBYY OCR technology
for full text searching in all PDF and PDF/A files.

Provides Easy Integration

Foxit document and data conversion solutions are designed to be
easily integrated into existing processes. Moreover, they offer enterprises a
diverse range of integration models, from comprehensive server-based
solutions to toolkits and software development kits (SDKs) that can be
embedded into existing systems.



---
New Features in Foxit PDF Compressor v7

Convert all email-formats, incl. attachments, to PDF/A (Born Digital Module required).


"Automatic Mode":

Uses the format of each individual input file to determine
the best processing mode for the job.
This means every document can be processed ideally,
without having to sort them in advance
or set up different jobs for different sources.
Saves time and gives you the security of knowing you'll produce
the ideal document every time.



Time Management Optimization:

Uses the time control feature to optimize your time management
when processing individual jobs.



---
Born Digital Module
(for Foxit PDF Compressor Enterprise only)
More and more businesses are going paperless.

This means an increase in both the overall number of digital documents
and the number of documents requiring long-term storage.




Digital batch processing.

With the Born Digital Module from Foxit,
digitally generated documents can be batch-converted to PDF/A format
for long-term archiving and further processing,
just as you would with scanned paper documents.




Complete Foxit PDF Compressor Enterprise Solution.

With the Born Digital Module added on,
the Foxit PDF Compressor Enterprise becomes a complete solution
for converting both scanned and born-digital documents to PDF/A format.




Digital Born Module with integrated E-mail support:

Converts digital documents from:
Microsoft Office, Apache OpenOffice, PDF and Emails with attachments.


Identical processing - The source no longer matters:
Paper documents and digital documents alike are converted and prepared
for further processing using exactly the same solution.


Any job can be set up within minutes, for the most efficient possible way
to convert Office documents and PDF files to PDF/A.


Available as option to Foxit PDF Compressor Enterprise.




Setup of e-mail conversion properties




Foxit PDF Compressor
Usage Models - Samples
---
Foxit PDF Compressor
Foxit PDF Compressor Enterprise Dashboard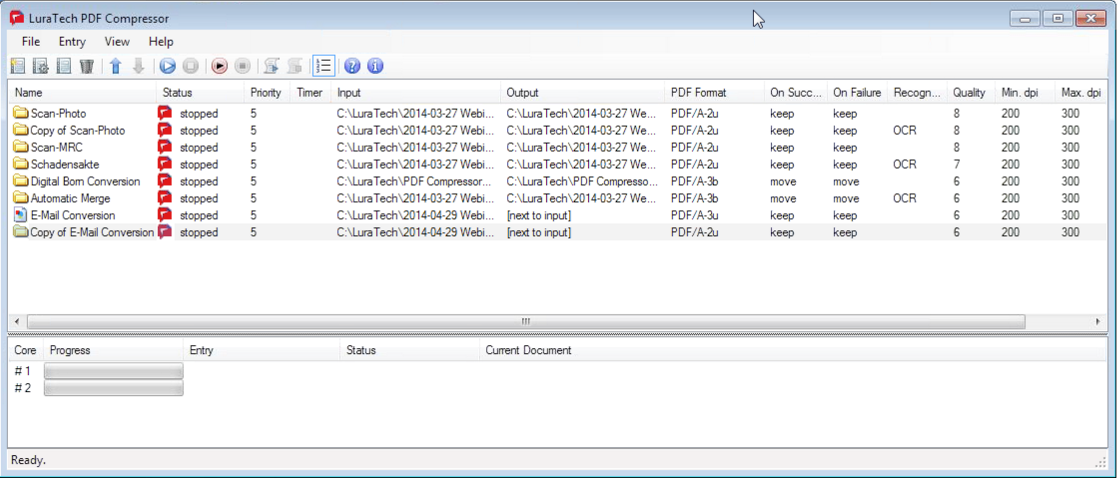 Purpose:

Professional solution for process-oriented document conversion and compression.


Flexible, scalable solution designed for processing data volumes of any size.


Outstanding PDF/A document compression reduces incoming data volumes significantly
while also delivering outstanding image quality in an ISO-compliant format
designed for long-term archiving.


Extracted data is automatically handed over to existing systems for
further processing to assist with any number of business processes.


Easily added into any existing workflow.
Integration types include batch processing and job-list processing,
in which the Foxit PDF Compressor Enterprise is jointly
controlled by both upstream and downstream processes.




Key Features:

Mixed Raster Content (MRC) compression technology:

This MRC process, also known as a Multi-Layer Segmentation Process,
separates text and image regions into separate layers.


Afterwards, these segments are optimally compressed:



JPEG2000 compression for image layer and
JBIG2 compression for black/white content and text


PDF and PDF/A conformant




High performance thanks to ABBYY's award-winning OCR technology:

Up to 190 recognisable languages


Automatic deskewing and page orientation


Additional output formats for OCR results:

XML, HTML, Rich Text Format (for MS Word), MS Excel, MS PowerPoint,
Plain Text, CSV, ALTO, and optionally Hebrew


Optional: OCR for Asian characters (CJK), Greek print writing and Gothic


Fully text searchable PDF and PDF/A files




Barcode Recognition:

Allows automatic indexing and document sorting for multi-page documents


Barcode values can be added to the PDF metadata and file name and
can be compared using Regular Expressions


Barcode recognition can be limited to a specific area of
the page and/or to specific barcode types


Pages on which a barcode is recognised can be optionally
excluded from the result (for patch pages and similar)


Supports 3D barcodes: Aztec, Data Matrix, PDF417, QR Code




Optional: Parallel processing.

Depending on the license, all of the cores of one machine could be used.
Performance increases almost proportionally with the number of cores used:

Automatic division of individual jobs between licensed processor cores


Automatic load-balancing across processor cores during parallel execution
of multiple jobs,taking job priorities into consideration




Optional: Born Digital Module with integrated E-mail support.

Allows born digital documents, such as Microsoft Office, Apache OpenOffice,
PDF and Outlook e-mails with attachments, as well as scanned paper documents,
to be converted in batch into ISO-compliant PDF/A format for long-term archiving.
The Born Digital Module with integrated E-mail support
is optional for PDF Compressor Enterprise.



Setup of Job Properties for Document Conversion
Programming interface (API) to Foxit PDF Compressor

Foxit PDF Compressor Enterprise has a programming interface (API)
to let developers integrate it even more tightly into existing systems.

Included in every license are a C-DLL interface and a .NET API which
ECM developers, workflow suppliers, systems houses and users can use to
synchronously address the Foxit PDF Compressor service and
receive ongoing feedback on the state of processing.

The interface can control all functions and settings, which means even
born digital documents and emails can be converted to PDF/A.
And of course, MRC compression, OCR reading and PDF/A creation are all
available for scanned documents, including all options for barcodes and more.

Do you use cloud-based services?
The PDF Compressor's new API makes it a simple step to create
your own PDF and PDF/A web service.

Foxit PDF Compressor can now, via the API,
be used directly from SharePoint.



Product Specifications
---
---
For more information contact NewFormat
---
NewFormat AB
Smörblommegränd 14, SE-165 72 Hässelby (Stockholm), Sweden
tel:+46 (0)70 631 53 01
All content © copyright 2008-2023 NewFormat AB. All rights reserved.
All product names, trademarks and registered trademarks
are property of their respective owners.
---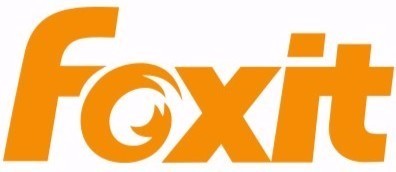 Foxit Software Partner