Our solutions are based on
tested, reliable, and highly accessible software solutions.
NewFormat is Appointed Reseller and Solution Partner in
Nordic (Sweden, Denmark, Finland, Iceland, Norway)
and
Baltic Region (Estonia, Latvia, Lithuania)
of leading CommonLook PDF technology
from NetCentric Technologies Inc., USA.
---
Products

High-Volume Automatic Accessible PDF Generator from Live Data / Databases
---

Request Demonstration of CommonLook Dynamic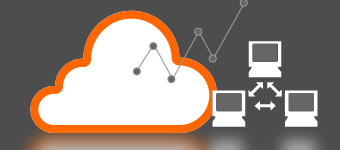 Do you need to make PDFs available to
clients and other stakeholders on-the-fly?

Do these PDFs all have the same (or similar) format and
the content in them is coming from some sort of database
- maybe Access, a SQL server, or even an Excel workbook?

If you answered yes to either of those questions,
CommonLook Dynamic might be the best solution for you.

CommonLook Dynamic automates the process of
generating accessible PDFs on demand.

This is the perfect tool if you need to provide large volumes of
online receipts, statements and other documents as
100% accessible PDF.




CommonLook Dynamic Automatically Generates PDF from Live Data

CommonLook Dynamic addresses the need to ensure that PDF files,
which are generated from live data, and in high-volumes,
are 100% accessible.

A customizable accessibility solution for enterprises
which are generating high document volumes.
Heard about Automated Tagging? Here are the Pros and Cons

Ever since the genesis of tagging PDFs,
users have tried to automate the process.
But tagging of PDFs is only the first step toward accessible documents.

While automatic tagging eases the process,
manual verification and error correction is needed to achieve
100% accessibility compliance with the standards.

While automation tools vary in accuracy,
the more complex a document is,
the more these tools struggle to tag them properly.

In fact, 100% accessibility compliance cannot be achieved
through entirely automated processes with the exception of
CommonLook Dynamic tool.




CommonLook Dynamic Achieves 100% Compliance

For documents with repeating layouts like statements, receipts,
invoices, reports and many healthcare insurance documents.
The secret is CommonLook's built-in accessibility templates.

The templates thus ensure full 100% compliance,
as long as the format does not change.
The files generated are fully standards compliant
and correctly tagged for accessibility.
When the PDF is made all of the accessibility issues have
already been addressed.

As part of this template creation process, each template goes
through rigorous testing to make sure that PDFs generated from
the template are 100% accessible and comply with all standards;
PDF/UA, WCAG 2.0/2.1, U.S. Section 508 and U.S. HHS.

So, while CommonLook Dynamic is an automated solution,
we still put in the manual labor needed.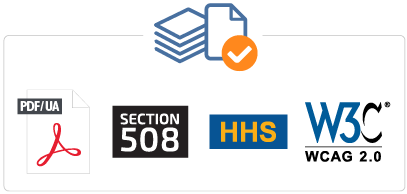 Volume PDF Document Accessibility

Many enterprise documents are created on-demand and
made available through corporate websites and portals.

CommonLook Dynamic enables enterprises to generate
accessible PDF documents for these automated processes.

CommonLook Dynamic provides the accessibility engine to ensure
documents can be used by screen readers and other assistive technology.




Powerful Accessibility Software

Instantly generate accessible PDFs


Fast, reliable, and production-ready


Create accessible statements, receipts, invoices, reports and more


Reduce compliance costs
Enterprise-class Document Accessibility

CommonLook Dynamic ensures that PDF files generated by
enterprise systems are accessible and meet compliance requirements.

It's a scalable solution for producing high-volume,
accessible PDF documents from database systems.



Accessibility Software for databases

What if you're not creating PDFs from MS Word, PowerPoint,
Adobe InDesign or any of the "typical" authoring tools?

What if, instead, you're generating PDF files in large volumes
populated with data flowing straight out of a database?
How do you proactively address that?




This is where CommonLook Dynamic kicks in:

CommonLook Dynamic supports various enterprise systems
including mainframes and large-scale databases


CommonLook Dynamic works in any environment where
data can be extracted from the database (e.g., as XML)


CommonLook Dynamic ensures compliance with standards:
ISO PDF/UA, WCAG 2.0 AA / 2.1 AA, U.S. Section 508, and U.S. HHS


CommonLook Dynamic är flexible and customizable,
and based on programmable business rules




This is how it works:

Our experts works with your organization's IT team to
establish secure access to the database.
You provide sample of your PDF files to our team.

Our development team examines them,
not only their visual layout and appearance,
but we note all of the accessibility items that need addressing
such as reading order, tagging and tag structure,
alternative text for graphics, etc. It's a long list.

We work with you to understand where the content will be coming from;
the various data sources, what is variable information and what is
static for each document, etc.



We create a "layout file", or template, based on the PDFs we examine.

We build all of the information for how the documents
should look into the layout file.

In addition, we do all of the tagging to guarantee that the resulting
PDFs will be 100% accessible and standards-compliant.

This template contains the information needed to call the data
so that it's placing the correct content on the correct pages.

The template is uploaded into CommonLook Dynamic;
ready to take on a live data stream from a database.



Dynamic merges the layout file with the data to generate the PDFs.

You log in to your account on CommonLook Dynamic and manages
the production of accessible PDF documents in intended volume.

Because we manually address all accessibility concerns in the first
two steps, this step can be completely automated and accurate.

In fact, CommonLook guarantees 100% standards-compliant
documents created using the Dynamic toolset.



You provide your accessible PDFs to those who need them.
How to Deploy CommonLook Dynamic

Dynamic is designed to work in the enterprise and is built into
various workflows based upon the unique needs of each customer.




Deployment Options:

Cloud-based deployment

The first option is to use the cloud-based solution.
The Cloud version of Dynamic can be run manually or
accessed via an API to run seamlessly on-demand.



On-premises deployment

Dynamic can also be internally hosted behind your firewall
for organizations that require this for security reasons.




Either way, we will work with you to figure out the best solution
and integration that fits your business requirements.
System Requirements

Microsoft Windows 10, 8, 7, Vista or XP


Databases:
Any environment where data can be
extracted from the database (e.g., as XML)



CommonLook Software Tools

We also offer CommonLook industry-leading software tools
to help automate the accessibility testing and remediation.

For more information contact NewFormat
---
NewFormat AB
Smörblommegränd 14, SE-165 72 Hässelby (Stockholm), Sweden
tel:+46 (0)70 631 53 01
All content © copyright 2008-2023 NewFormat AB. All rights reserved.
All product names, trademarks and registered trademarks
are property of their respective owners.
---


CommonLook Software and Services Partner