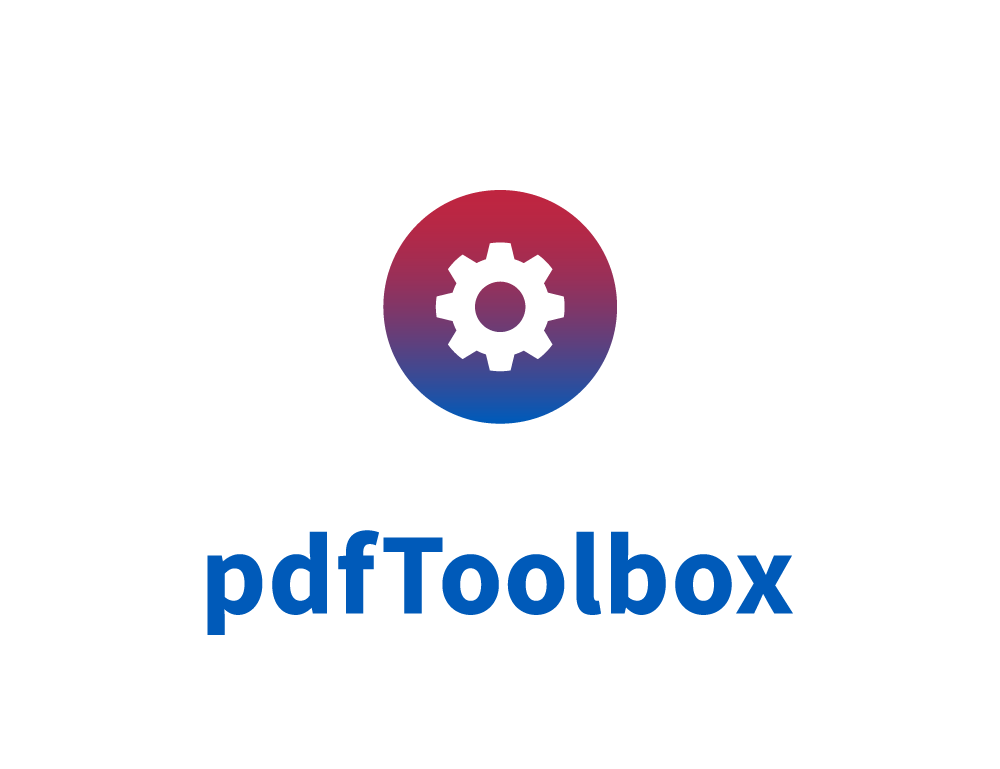 Solutions to preflight, correct and repurpose PDF files for
prepress, print production, and electronic publishing
---
callas pdfToolbox Key Features - Details
New features in callas pdfToolbox 10.1:

callas pdfToolbox 10.1 is a minor update including a number of interesting new features:




High-quality color conversions & ink reduction

Perhaps the most important novelty in pdfToolbox 10.1
is the inclusion of a set of 53 DeviceLink profiles.
While pdfToolbox always came with an optional set of DeviceLink profiles
as a payable option the updated set of profiles has now been
integrated in version 10.1 and is usable without additional cost.

DeviceLink profiles are typically used to do conversions from
CMYK to CMYK while preserving correct separations.
This can be done to convert files created as a US or Japanese standard
to the color standard used in Europe (or vice versa),
to convert files prepared for coated paper to uncoated printing workflows or
to correct high ink usage in incoming files in the best possible way.




Support for Photoshop files

One of the most frequent requests from customers was to enable
pdfToolbox to convert Photoshop files (PSD files) into good PDF documents.
With pdfToolbox 10.1, this now becomes a possibility!
Not all Photoshop features are currently supported,
but the majority of files should convert to PDF without any problem.
This allows automated workflows to be more efficient and to accept
more client files directly in the workflow without needing manual intervention.




And more …

Besides these interesting new features, pdfToolbox now also provides:

New Switchboard actions / 'decoration' features: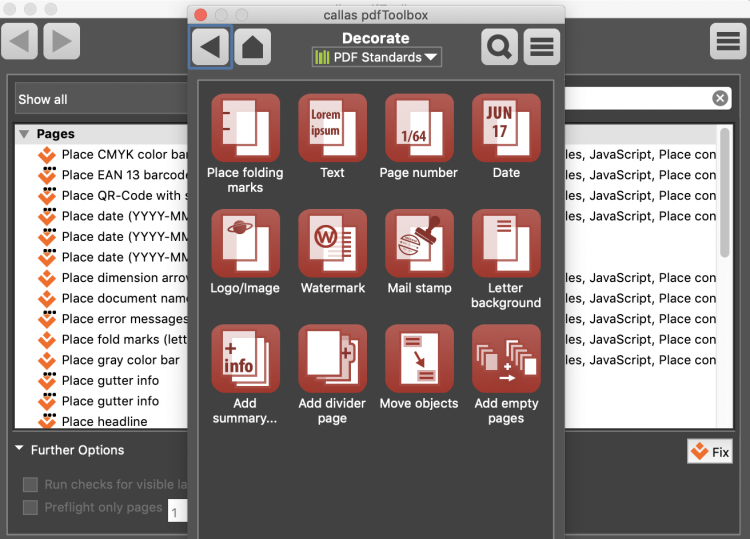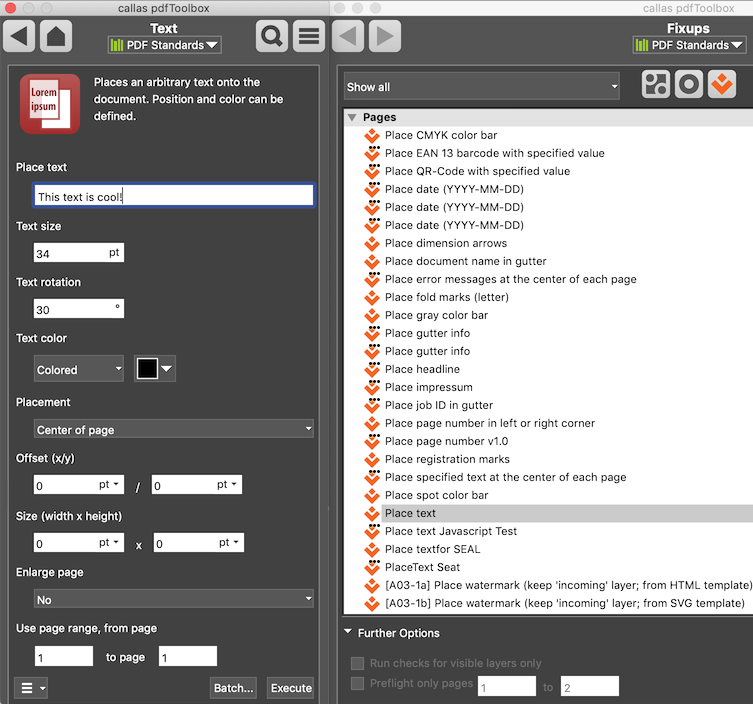 "The Switchboard Actions" under "Decorate" let you place a range of
different object types or even pages within a PDF:

Remove invisible objects.
Split or reorder pages.
Placing objects such as:

Folding marks,
text,
page number,
date,
logo/image,
watermark,
mail stamp,
letter background,
add summary page,
add divider page,
move objects,
add empty pages.




Example of place object: Add text.
The "Add Text" action lets you place text on a page.
All you have to do is:

Enter the text to be placed.
Define text size, rotation and color.
Define the position where the text is to be placed under "Placement";
interesting here is the "Mouse Selection", where the dimensions of
the region can be specified using a mouse, very much like
inserting a "Text box" in Microsoft PowerPoint, for example.
Define Offset (relative to Placement);
if the text doesn't appear on the page, enlarge page.
And finally, define the page range,
in case it is a multi-page document that you are dealing with.

And voilà! The result will then be shown in the visualizer.




Split Device-N or N-Channel objects into different objects,
each using a subset of colorants

This is important in workflows where many different spot colors are used
and where e.g. the dieline needs to be split into a separate PDF file.




Rotate page content with a specific amount

pdfToolbox has always been capable of rotating in increments of 90°
(e.g. to go from landscape to portrait),
but it can now also rotate page content by any arbitrary amount;
with or without changing the page size of the resulting PDF document.




Convert colors in specific page ranges in a document

A PDF file for a book e.g. might thus have all inner pages converted
to black and white, while the cover pages remain in color.




Close Window


New features in callas pdfToolbox 10:

The new version takes a significant new step in preflight technology by making it
possible to detect more problems, while making detection more accurate.

It also makes pdfToolbox ready for cloud deployment and introduces additional
capabilities for process plans for step-by-step conditional processing of PDF files),
preflight reports and more.

For the first time, pdfToolbox 10 introduces a preflight engine that has
the capability to check the relationship between objects in a very
flexible and broad fashion.
Examples of where this technology can be used are the detection of bleed,
checking whether objects are inside or outside an irregular die-line,
determining whether black set on knock-out will really be a problem…

One of the big challenges of preflight in automated workflows is avoiding false positives:
files that are no problem in production, but are still flagged as problematic.
Better detection possibilities in pdfToolbox 10 will dramatically reduce this problem
and thus increase the productivity of automated workflows using it.

Automation is crucial for companies to remain competitive,
and pdfToolbox 10 enables better automation.
pdfToolbox 10 provides deep analysis not just of single objects,
but of objects in the context of all the other objects in the PDF.




Sifter & Processing Steps

The technology that makes this possible is called "Sifter".
It uses mathematical algorithms to determine what the relationship between objects is.
Whether they overlap, intersect, are in close proximity…
That technology forms the basis of a lot of the new capabilities in pdfToolbox 10.

One of the areas where Sifter is important,
is in support for the new 'Processing Steps' ISO Standard.
This standard around handling elements in files that are linked to
non-printing steps in the workflow is important for the packaging,
label and large format market segments.

Interactive as well as profile driven evaluation, modification and preflight of
PDF Processing Steps Metadata is fully supported in callas pdfToolbox.




Even better preflight reports

pdfToolbox supports fully customizable preflight reports where both
design and content of the report can be modified to fit a client's needs.
In pdfToolbox 10, that customizable report can be extended with a copy of
the original document where the preflight errors are highlighted
using masks with comments or layers.

In pdfToolbox 10, it also becomes possible to translate preflight results
in languages not supported in the software to provide alternative wording
for items used in standard reports (simplified problem descriptions for example)
and to generate reports in multiple languages from one preflight.




Process Plan power

Process Plans provide step-by-step execution of
Profiles, Checks, Fixups and Actions on a PDF document,
and they allow conditional processing where preflight Checks or
variables influence what the next step is going to be.
As Process Plans are used more and more often, and in more challenging scenarios,
pdfToolbox 10 increases their capabilities.

It is now possible to call another Process Plan in a Process Plan,
which makes it much easier to reuse processing logic.
pdfToolbox 10 further allows to create a Process Plan which creates multiple output files:
one could build a Process Plan that generates a production version and a proof version
of an incoming PDF document for example.




Quick Check

While Sifter enables pdfToolbox to be used for more challenging analysis of PDF documents,
sometimes customers really only want simple answers.
"Quick Check" functionality in pdfToolbox 10 caters to that;
it provides basic information about a PDF in an extremely fast way.




Test mode

pdfToolbox allows creating extremely flexible Profiles and Process Plans.
Sometimes this makes it hard to fine-tune them until they do exactly what you want.
With pdfToolbox 10's test mode, this is now a breeze.
Test mode works on a copy of a PDF file, so you don't risk ruining your test PDF file
and it can be used directly from the Profile or Process Plan editor.
This significantly speeds up the test cycle.




And much more...

pdfToolbox 10 also includes advances in other areas.
It readies pdfToolbox for true cloud deployment, so that one can take advantage
of the rapid resource up and down scaling of modern cloud services and for
environments where processing needs vary greatly even in non-cloud implementations.
It also makes extensive logging of preflight operations available if customers want to
track processed files, common preflight problems and more.
The preflight engine was upgraded to allow more complex preflight checks using
Boolean logic ('and' and 'or') and optional content ('layers') is now fully supported in
HTML templates used by the Place Content technology.




Close Window


New features in callas pdfToolbox 9.4:

Prepares support for the PDF 2.0 Standard

callas pdfToolbox 9.4 introduces a number of internal changes
to prepare support for the PDF 2.0 standard.
PDF2.0 was published as a standard by ISO,
the International Organization for Standardization, in July 2017.




Insert Pages Mixup

A new "Insert pages" fixup allows inserting new empty pages or duplicating existing pages.
A new preflight condition allows identifying objects with specific dimensions
(for example to give an error only for objects exceeding a certain width or height).




Custom ID in Preflight Checks and Fixups

This makes it much easier to refer to them in XML reports or
when using Javascript in for example process plans.




Compare Profiles

When working on different versions of preflight profiles,
it's often difficult to find out what exactly has changed.
pdfToolbox 9.4 contains a "compare profiles" feature that
can be used to easily highlight differences between profiles.






Explore PDF View Improved

The "Explore PDF" view has been improved to allow
easier navigation through the internal code of a PDF document.



---
New features in callas pdfToolbox 9.3:

Adobe PDF Library

pdfToolbox now uses the latest version of the Adobe PDF Library.
It provides bug fixes in the areas of rendering and transparency flatting
and improves stability and performance of the application.




Pre-separated pages

A new Switchboard action allows for converting pages containing CMYK
(and optionally spot colors) into pre-separated pages (without rasterization).
A one page CMYK PDF file is converted into a four-page pre-separated PDF file.
Pre-separated pages have metadata to allow compatible equipment
to recognize them as such.






Size of a page box

The pdfToolbox check for the size of a page box such as
the trim box has been extended.
Now it is also possible to check that a page has either
a given size or a multiple of that size.
This allows for checking whether a page can be
proportionally scaled to the required size.




Variable can be reloaded from the last run and
exported/loaded to/from JSON file

A small convenience feature can make the development of profiles
and process plans using variables much easier:
when testing profiles or process plans in pdfToolbox Desktop,
variables can now be reloaded from the last run.
It is even possible to export variablerna into a
JSON file or load such a JSON structure.
The same JSON can also be used in pdfToolbox CLI or SDK.
A real-time saver when it comes to testing profiles with
large amounts of variables.



---
New features in callas pdfToolbox 9.2:

The main new feature in pdfToolbox 9.2 is the ability to
search for fix-ups, checks, profiles … across multiple libraries,
but a host of smaller features can be found throughout the product.

Cross-library search

Libraries have transformed the way people work with
Checks, Fixups, Profiles and Process Plans:
the ability to store those by product or client for example is a great time-saver.

However, sometimes you just want to find an item you know you worked on,
but you don't remember where it was.
In pdfToolbox 9.2, there is the ability to see all Checks, Fixups and so on
with the Library they are in next to it, and there is a separate
'Search Libraries' window to enable very detailed searches.



Using an external text editor for Javascript variables
The power of Variables in pdfToolbox is unlimited as of
the introduction of Javascript variables in version 9.
Up to now, you have no choice as to edit variables inside
the variable window in pdfToolbox, but version 9.2 offers the ability
to open a Variable in your standard text editor,
so you can edit it in your preferred script editing environment.
This gives you easier access to syntax coloring, code completion and tools,
such as Javascript, checking (with lint for example) inside that editor.



Other additions to pdfToolbox 9.2

The new update release introduces the following smaller features:

Some Switchboard Actions now feature a help button at the bottom.
This button leads to the callas software documentation website at:
help.callassoftware.com.
Not all Switchboard Actions have this yet, more will be added as time goes by.


The 'Ask at runtime' and 'Variable editor' windows
feature better keyboard shortcut support.


More information is provided in the XML report
for the output intent in a document, and there is a new
Fixup ("Embed output intent with specified parameters")
that lets you embed an output intent without first having to
create it in the pdfToolbox preferences.


The 'Place text' and 'Place page number' Fixups
allow adding a white background behind the added text.


The 'Outline page geometry boxes' Fixup
has the possibility to select which sides of the page box
should be outlined (instead of always outline all of them).


The 'Rotate page' and 'Set page geometry boxes' Fixup
supports using a check to define which pages should be changed.
This makes it possible for example to only rotate pages 3, 7 and 10
by using a proper preflight Check that uses the sequential page number.


The 'Enlarge page' Fixup can be performed on specific pages as well,
and it has new options to select which side of the page should be enlarged.




---
New features in callas pdfToolbox 9.1:

pdfToolbox 9.1 focuses on improving usability and reliability even further.
pdfToolbox 9.1 adds support for the Processing Steps standard,
includes a new version of the Adobe PDF library and
extends several main pdfToolbox features.

Improved shape technology

pdfToolbox 9.1 extends the shape technology to enable some of these use cases,
such as better support for spreading or choking while adding irregular shapes.




Processing Steps

Processing Steps is a specification originally developed by the Ghent Workgroup
to associate information about printing and finishing processes
(such as cutting, embossing, varnish …) with a PDF document.
This is done by grouping page objects in layers
(technically: optional content groups, OCG), and adding metadata
to those layers to identify them as processing steps.
The specification is going through a standardization process at
the ISO organization to become an official international standard.
pdfToolbox 9.1 implements wide support for this specification:
it is possible to view or add processing steps information,
check for its availability or correctness during preflight and
fix common problems with it.




Place content supports SVG

The place content functionality in pdfToolbox is a very flexible way
to add content to PDF documents, from simple text or page numbers,
over barcodes with the built-in barcode library,
to more challenging tasks with place content templates.
In pdfToolbox 9.1, it is now also possible to simply add
a complete SVG file to a PDF document.




Process plan debugging4>

Process plans are a convenient and powerful way to run complete fixup sequences
on PDF documents, optionally with conditional (if … then …) processing.
Building complex process plans can be challenging and pdfToolbox 9.1
helps by providing process plan debugging functionality.
In debug mode, all information about processing
(including intermediary PDF files and reports) of a process plan is stored.
This allows running a process plan and then analyzing in detail what the
result of each step was to further optimize what happens in the process plan.




New version of the Adobe PDF library

pdfToolbox internally uses the Adobe PDF library for transparency flattening or
rendering of PDF documents. This library has been updated in this release,
to be on par with Adobe's flagship Acrobat DC product.
This change improves reliability and quality of
the transparency flattening process specifically.



---
New features in callas pdfToolbox 9:

callas pdfToolbox now extends its functionality towards the different finishing
operations that are necessary to prepare a PDF before it heads off to the RIP.
Many of the new features dramatically enhance the possibilities of pdfToolbox
for the large format printing, label and packaging markets for example.

Extends the use of variables into PDF preflight and correction





Large Format Printing - New section with dedicated features:





Prepress innovations





New Features in callas pdfToolbox Desktop / Viewer Improvements

Close Window


New features in callas pdfToolbox 8:

Full support for multi-channel workflows and PDF/X-5n,
and soft proofing of color / PDF/X-5n



pdfToolbox 8 makes it possible to convert any PDF document
to a multi-channel color space using an appropriate ICC Profile.

This means RGB or CMYK content can easily be converted into
hexachrome, CMYK + Red or any other multi-channel scenario;
this is of critical importance for packaging and - increasingly - all digital workflows.

Also included is support for the creation and validation of PDF/X-5n files, an ISO standard
that is designed to support such color spaces in prepress data exchange.



pdfToolbox 8.1 can also do PDF/X-5n soft proofing.

Soft proofing of PDF/X-5n files enables color-accurate display of
documents that use multi-channel ICC profiles.
Multi-channel color is becoming increasingly important because more and
more often printers use more than 4 colors on their digital presses.

Another area where they are frequently used is packaging.
Soft proofing capabilities let users control color in different environments,
which until now was only possible with highly specialized products.

The new feature is available in the standalone version of
pdfToolbox 8.1 Desktop and in pdfToolbox 8.1 CLI, Server and SDK
where soft proof images can be created.




pdfToolbox libraries



If custom preflight or correction profiles are created, pdfToolbox 8.1 can make
one's life much easier with pdfToolbox libraries.

In pdfToolbox 8.1 different profile libraries can be managed; each library can contain
a different set of profiles, checks, fixups and all other supporting settings
(such as HTML templates, color conversion settings etc…).
Libraries can be imported and exported to be shared between users, and it's easy
to switch between libraries in pdfToolbox to quickly work on different projects.




Integrated barcode library

In many workflows barcodes need to be added to documents at some point in the workflow.

To enable this pdfToolbox 8 now includes a full, professional barcode library that can add
over a hundred different types of barcodes to PDF documents.
From 1D to 2D barcodes or QR codes, pdfToolbox 8 covers it all.




Adding dynamic text

Adding page numbers to a PDF document is a recurring request and with
the new "Add dynamic text" fixup, pdfToolbox 8 makes this possible.

The fixup allows adding a wealth of information, either static text or dynamic text on
a PDF document using a number of different fonts, colors and placement options.




The power of callas pdfChip integrated in callas pdfToolbox

callas pdfChip is a very powerful HTML to high-quality PDF converter.

pdfToolbox 8 now integrates the power of pdfChip to support scenarios where the content
to be added to a PDF document is more complex than a barcode or dynamic text.
With some knowledge of HTML, CSS and optionally JavaScript it is possible to
decorate PDF files in any way necessary in a workflow.




Object Inspector – detailed examination of PDF documents





Using preflight, pdfToolbox has always been capable of quickly detecting
problems or potential problems.

Using the visualizer many preflight problems
(such as bleed errors or ink overruns) can quickly be diagnosed visually.

The new Object Inspector adds to that the ability to see a comprehensive list
of properties for all objects in your PDF documents.
Users can click on a document to see which objects are used in that location,
and examine all properties (font, color, transparency, resolution, …) of those objects.
A great tool to pinpoint pesky problems detected by preflight or simply to pick
apart a troublesome PDF document.




Quicker processing of big PDF documents and
TIFF export with result files of any dimension.

In some workflows customers have to process very big documents;
documents that are very complex or, while relatively simple,
contain a huge amount of pages.

pdfToolbox 8 is optimized to deal with such documents
without delays or problems.

pdfToolbox has been capable of saving each page of a PDF document as
PNG, JPEG or TIFF image,but that output so far was limited to
32.000 pixels in any dimension.
In pdfToolbox 8 that limit has been completely removed for TIFF files
(with the exception of the 2GB file size limit imposed by the TIFF format itself).
This makes it possible to generate high-resolution TIFFs of even the biggest files.




Close Window


New features in callas pdfToolbox 7:

Fully customizable preflight reports

New highly customizable preflight report providing attractive overview and flexible adoption.

The preflight report listing errors and warnings is often the only contact
your clients have with your production workflow; that makes such reports
essential in conveying the proper information.

callas pdfToolbox comes with a new preflight report layout that is
much more visually attractive, provides the information in a more clear
and concise way and is fully customizable so that you can add your
company logo or brand colors when needed.





Operator intervention in an automated workflow

Even in fully automated workflows human intervention is sometimes required.

With callas pdfToolbox, this manual intervention step is built right into
both the Server and Desktop applications.
The new checkpoint feature of callas pdfToolbox Server allows you to define
workflow steps that submit files to callas pdfToolbox Desktop instances over the network.
Operators can then easily verify whether certain automatic corrections were made
as intended or jump in to make manual changes.

Problem files can be kept in a "waiting room" within callas pdfToolbox Server
instead of moving them immediately to the error folder.
Operators using callas pdfToolbox Desktop see that list of problem files
right inside their callas pdfToolbox interface; they can open those files on their
desktop machine, inspect or modify them using the callas pdfToolbox tools and
decide to reject them, overrule potential errors or approve a corrected version.

callas pdfToolbox Server keeps track of who checked the PDF file out to avoid
multiple operators losing time by looking at the same file, and moves the files
to the success or error output folder based on the operator's decision.





Radically improved transparency and font engines

Transparency is still an issue in many of today's prepress workflows.
callas pdfToolbox now has smoother results and better performance.


There are similar problems with overprinting objects.
Some workflows have problems with rather complex objects.
callas pdfToolbox can flatten overprinting objects in the same way
as transparent objects.


One of the most error prone fields is with regards to fonts.
callas pdfToolbox is based on a completely new font engine with enhanced
conversion capabilities, better stability and higher performance.




Clean up of PDF files for print and mobile production workflows

Cropping pages to what is visible on the page,
disregarding invisible objects or objects that are partially masked out.

This provides much better performance as only
the actual visible page content is being used.



Hard cropping of images.

The non-visible parts of images are removed to make the overall file smaller
(and avoid problems with content that is not visible but could be
retrieved using PDF editing software).
Images can be cropped to their mask and additionally to one of the page boxes.



Removal of arbitrary page objects.

This for example allows easily removing a die line or all elements using
a particular spot color; e.g. that should not show up on a printing plate.



Removing all metadata from PDF documents.

The new fix up even allows removing object level metadata,
which can bloat PDF files considerably.





Other new features

Calculate the total area coverage of each separation in a PDF file
(for cost calculation for example).


Compare two PDF documents or a specific number of
separations from two PDF documents

Possible to only compare the non-black channels (non textual objects) or
only the black channel (only the text) without modifying the PDF beforehand.


Count the number of separations generated by a PDF file.


Determine the x-height of text.

This is based on the new EU regulation for text size on packaging material
that requires this particular check. As the required text size is defined as x-height,
which is different from the regular text size (point size), this new preflight check
can accurately check the x-height of text.

For regular production workflows callas pdfToolbox also supports
Ghent Workgroup specifications (GWG 2012) for ads and commercial print.




Close Window


Key features in callas pdfToolbox:

Process plans

Building logic into profile
Execution of processing steps in response to results of previous sequences
Combining profiles with actions




Color remapping improvements

Extensions to the conversion of color channels, so that any
process color channels can be converted to spot colors and vice versa
Spot colors can be put anywhere on PDF layers




callas pdfToolbox supports

Networked-enabled setup and management

callas pdfToolbox Desktop connect directly to local
callas pdfToolbox Server running on a different machine.
Profiles and hot folder configurations done at
callas pdfToolbox Desktop while actual processing
runs on different server.

Load-balancing




Numerous other enhancements

Many checks, fixes and profiles have been extended and
the process stability is further increased



callas pdfToolbox can:

Check and correct according to industry standards,
including PDF/X-1, PDF/X-3, PDF/X-4, PDF/X-5, PDF/A and PDF/VT
Perform a quick visual inspection of the files that have not passed quality control
Convert native documents into print-ready PDFs

Microsoft Word, PowerPoint, Excel, Publisher, Visio and Project
OpenOffice
Pages (Mac OS X only)
PostScript and EPS
PNG, JPG and TIFF images

Perfectly convert color with smooth color, pure black text and
enhanced gray balance for consistent print output
Fix PDFs that have correct printer marks but without a correct trim or bleed box set
Visually compare PDFs to accurately see what changes have been done or
make sure no unintended changes were introduced
Execute a single fix or a profile full of fixes on a complete folder of
a large amount of files using the batch processing feature



For prepress professionals, there's an updated PDF engine which supports:

The latest ISO standards
Advanced color management
Imposition of everything from business cards to full N-up impositions
(N-up printing allows you to print two or four or more pages on single sheets of paper)
Splitting or joining of PDF content
Controls to resize and reposition PDF content
The ability to embed, subset, replace and convert fonts to outlines
64-bit systems

Close Window