Preflight with callas pdfToolbox for trouble-free production
Typical problems in print indata / PDF files
What callas pdfToolbox can do
callas pdfToolbox checks and corrects documents according to industry standards,
including ISO Standards based on PDF-technology, such as
PDF/X-1, PDF/X-3, PDF/X-4, PDF/X-5, PDF/A-1, PDF/A-2, PDF/A-3, PDF/UA-1 and PDF/VT,
and market/segment unique specifications from The Ghent Workgroup.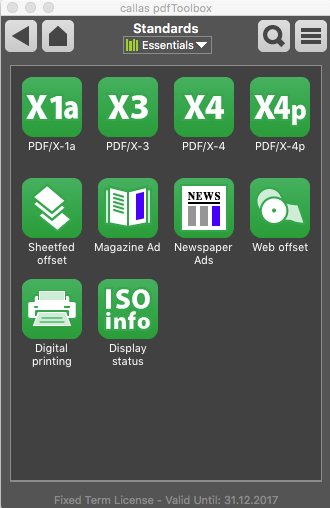 callas pdfToolbox converts native documents created with
Microsoft Word,PowerPoint, Excel, Publisher, Visio and Project,
Apache OpenOffice, Pages (Mac OS X only), PostScript and
EPS, PNG, JPG and TIFF images into print-/publish-ready PDFs.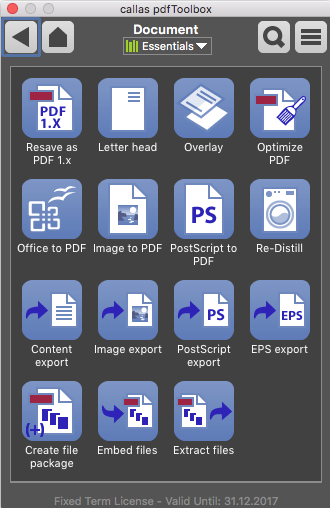 callas pdfToolbox is used for workflow automation, command-line processing,
and dynamic preflighting to avoid production errors, identify and fix problems,
spot differences in PDF files, imposition tasks (such as making booklets),
step-and-repeat, split spreads into single pages, and much more...

With callas pdfToolbox one can be confident that files are ready for even
the most stringent of output requirements through software which is
simplicity itself to setup and use.


All callas software solutions share a common aim whenever PDF files
need to be prepared on a large scale to:


automate and standardize output processes


care for quality, safety, speed and efficiency


provide fully PDF compliant files


increase productivity


reduce errors


Guide to callas software solutions, typical use cases, hands-on exercises and tutorials:

checking and correcting PDF Documents / Prelight


preparing documents for archival


dynamic workflows dynamic using variables




callas pdfToolbox is compatible with Adobe® Acrobat® DC
(in fact it uses the same rock-solid PDF preflighting technology),
but in addition allows you to automate and batch process PDF files.



---
callas pdfToolbox turns print-ready PDFs into
lightweight performant PDF pages for Mobile Magazines and Periodicals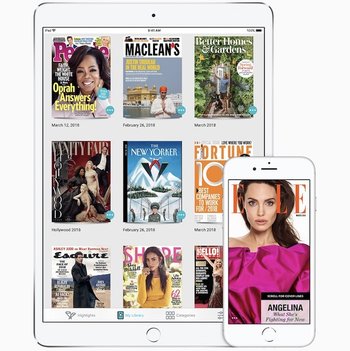 More and more, magazines are available on tablets or other mobile platforms.
Consequently, many new apps appear where subscribers have access to several
hundred publications, such as AppleNews+, Keep In Mind, Readly and many more.

The subscriber uses the respective app to view the magazine pages,
but in many cases the internal format is actually PDF.

In this blog post, we want to have a look at what is needed to turn a print-ready PDF
into lightweight performant PDF pages adapted for mobile publishing.



---
PDF validation with callas pdfToolbox

Common question: What is a PDF validator exactly validating ?

The rule of thumb is:
A PDF validator (callas pdfToolbox) checks the aspects
that are specifically governed by the PDF standard.

Use of callas pdfToolbox in practice:
Use cases: Preflight, validation, correction and conversion
---
Products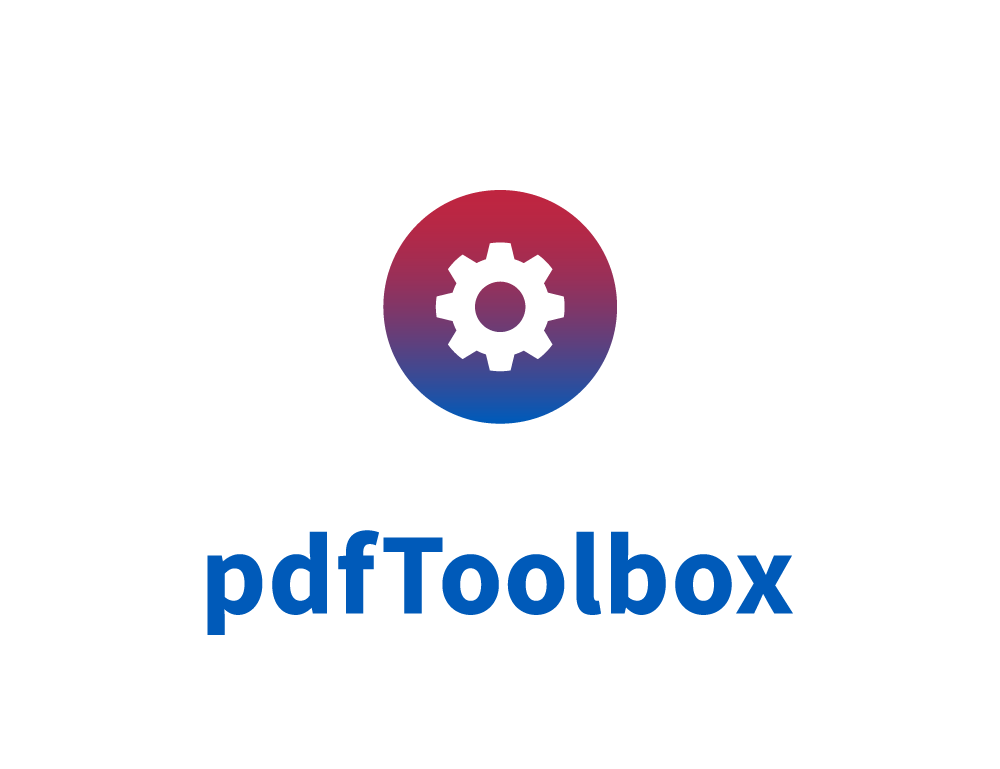 callas pdfToolbox
PDF Technology Solutions for Prepress, Print Production and Publishing
---

Click Here for Free Trial of callas pdfToolbox Desktop, Server, CLI and SDK
(You will be asked to fill in a trial request form.
To help us identify your software download and support you,
please enter the code NewFormat
in the form field named Preferred Reseller).
Overview
callas pdfToolbox Swichboard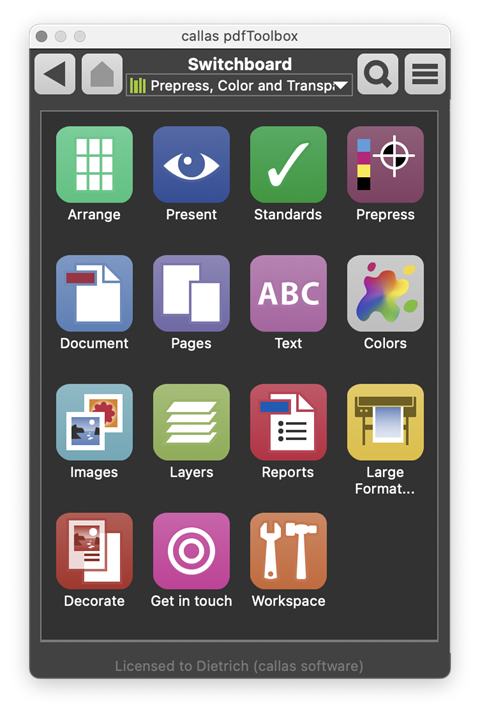 callas pdfToolbox Desktop - PDF Production Toolkit

callas pdfToolbox Desktop is the easiest yet most powerful PDF preflight
and correction application on the market.

callas pdfToolbox Desktop installs standalone or as a plugin inside Adobe® Acrobat®:


When installed as a standalone application, pdfToolbox Desktop completely
replaces the inbuilt preflight capability of Adobe Acrobat;
in such cases there is no need to also buy / install Adobe Acrobat.


When installed as a plugin into Adobe Acrobat,
pdfToolbox Desktop vastly extends and enhances the basic,
inbuilt preflight capability of Adobe Acrobat.



Easy to use

Switchboard (user dashboard) for ready-made actions


Visualizer for visually inspecting PDF documents


Yet powerful

Profiles for more customization


Variabels to make profiles dynamic


Process plans to introduce processing logic



No task is too difficult for callas pdfToolbox Desktop.
Problem files can be fixed during preflight or with a
click of a button in the Switchboard (user dashboard).
Examples:

flatten transparency,


convert fonts to outlines,


insert trim and bleed boxes to match printer marks,


convert office documents or even PostScript files directly into PDF,


compare versions of PDF files,


visualize ink coverage,…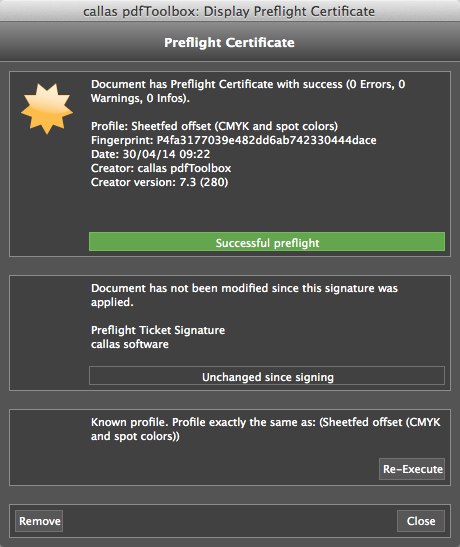 callas pdfToolbox comes in several flavours
for specific needs and automation requirements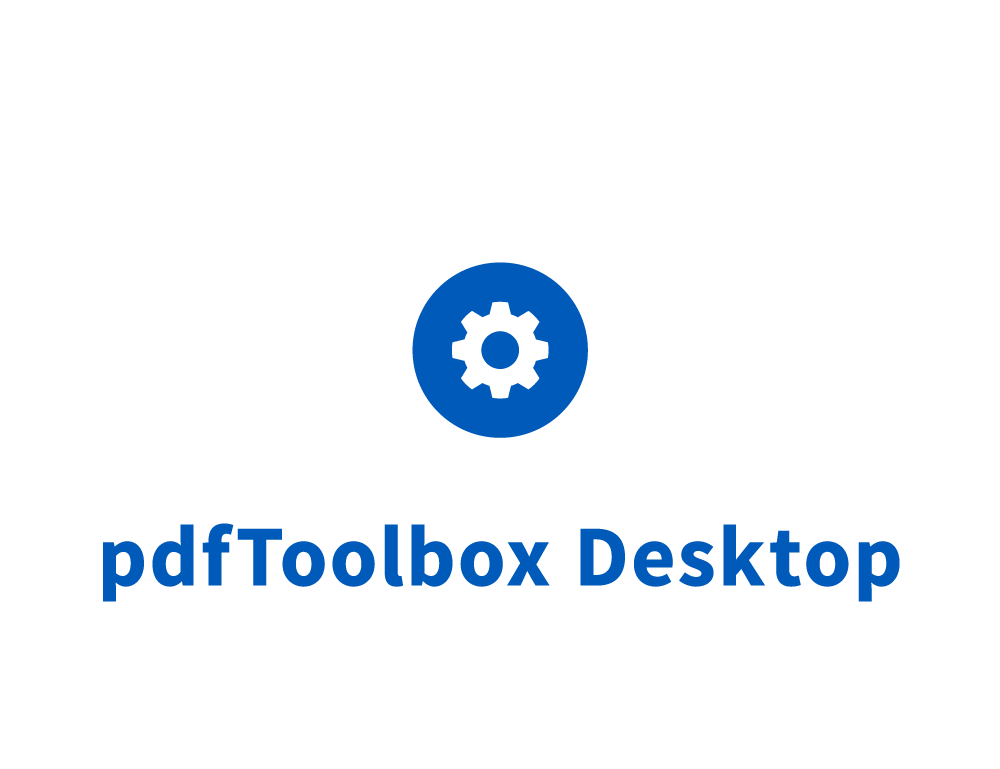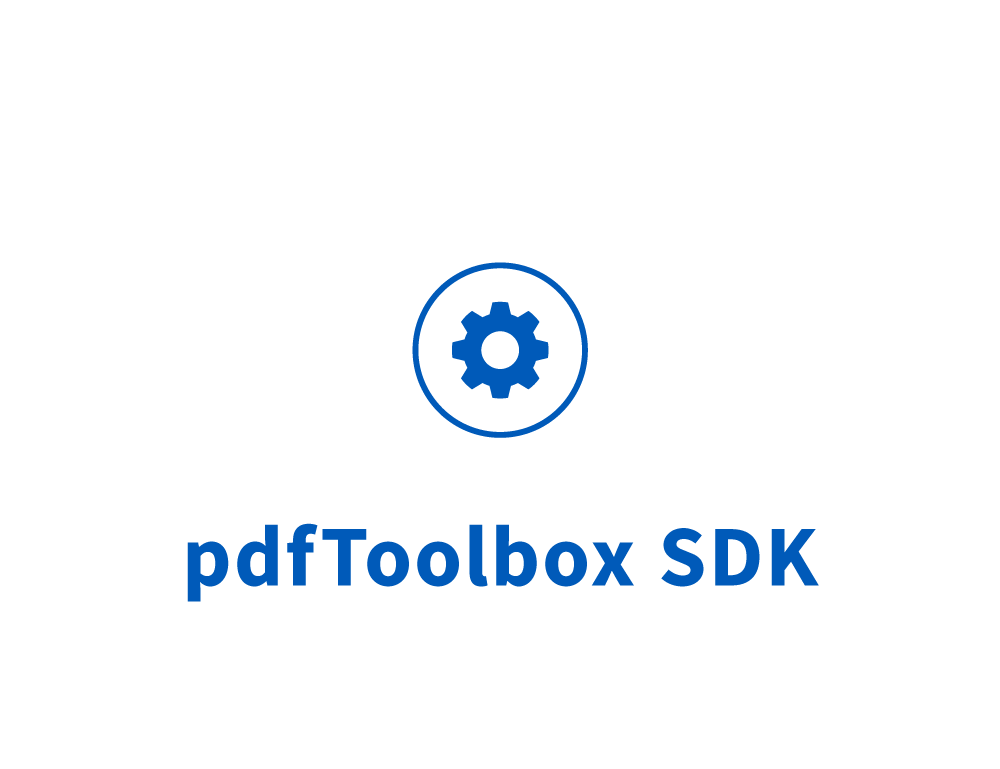 callas pdfToolbox
- PDF Technology Solutions for Prepress, Publishing, Print Production

callas pdfToolbox product family - and they all support the same functionality
The callas pdfToolbox product family is the easiest yet most powerful
PDF preflight and correction application on the market:



callas pdfToolbox Desktop for individual and interactive use on desktops.
Aimed at providing preflight, correct and repurpose of PDF files for
prepress, print production, digital publishing and accessible PDF.

Gives all aspects of working with PDFs a massive boost with a greatly
extended feature set for a diversity of user's needs.
Runs as independent application or as plug-in for Adobe® Acrobat®.

Fix one file at a time or, in batch mode, a whole bunch of PDF documents.
The Switchboard allows you to run any action on a whole folder of PDF files;
the files are automatically moved to success or error folders
based on the result of processing.
Of course this is not a substitute for watched folders in pdfToolbox Server & CLI,
but it can save you loads of time if you need to process multiple documents.



callas pdfToolbox Server & CLI are fully customizable server solutions that
allow for automation of workflows through watched folders or ready for
integration into existing systems through a command line interface.

callas pdfToolbox Server is used to automate callas pdfToolbox or
when integrating callas pdfToolbox into an existing workflow.
Hotfolder-based automation for efficient preflight/checking,
correction and perfect color conversion and optimization of PDF files.
Includes one license of callas pdfToolbox Desktop (MacOS X or Windows)
for configuration and testing purposes.
Integrates into any web-portal or automation workflow.
Direct integration with Enfocus FullSwitch and PowerSwitch
by means of the provided application configurations.

callas pdfToolbox CLI-based (command line interface) automation of PDF processes.
Is the fastest way for developers to leverage callas PDF technologies into custom solutions.
Fast, robust integration of PDF preflighting and processing in any environment.
Fully-featured PDF preflighting, correction, color-management and
imposition functionality into custom workflows and solutions.


callas pdfToolbox SDK (Software Development Kit) is a
programming library/software development kit for developers
with a need for PDF optimization, validation and correction.
Facilitates the development of any kind of application that must edit PDF files.
Enables development of state-of-the-art products to check and correct PDF files.
Includes one license for the callas pdfToolbox Desktop (MacOS X or Windows)
for configuration and testing purposes.


More on "What callas pdfToolbox can do"
"Can Do Things"


Preflight


Embedding fonts


Outlining text


Comparing PDF files


Adding a stamp


Placing (dynamic) barcodes


Imposition


Converting RGB


Flattening transparency


Converting to image


Go from/to PostScript


Changing page size


Rotating pages


Removing spot colors


Fixing spot color names


Fixing overprinting white (or black)


Creating rich black


Comparing PDF versions


Rearranging pages


Adding printer marks


Cropping white space and hidden content


Use DeviceLink profiles


Convert to multi-channel PDF


Convert office files to PDF


Downsampling images


Removing layers


Splitting PDFs


Viewing excess ink usage


Adding bleed


Outlining page boxes


Adding white margins


Writing checks with Javascript


Conditional processing using Javascript


Adding undercolor white


Setting page boxes based on page content


Adding varnish layer


Adding grommets (eyelets)


Tiling into smaller pieces


.


.



Automation
Process Plans



callas pdfToolbox comes with full support for process plans.


Process Plans take automation flexibility to the next level:



They allow defining a number of steps a PDF file should be processed through.


Each step can be a preflight profile,
a single preflight check or fix, or an action
(such as creating images, creating a booklet, exporting as PostScript file…).


Process plans allow generating preflight reports based on
the result of each step, or can jump between different steps
based on the processing result of a previous step.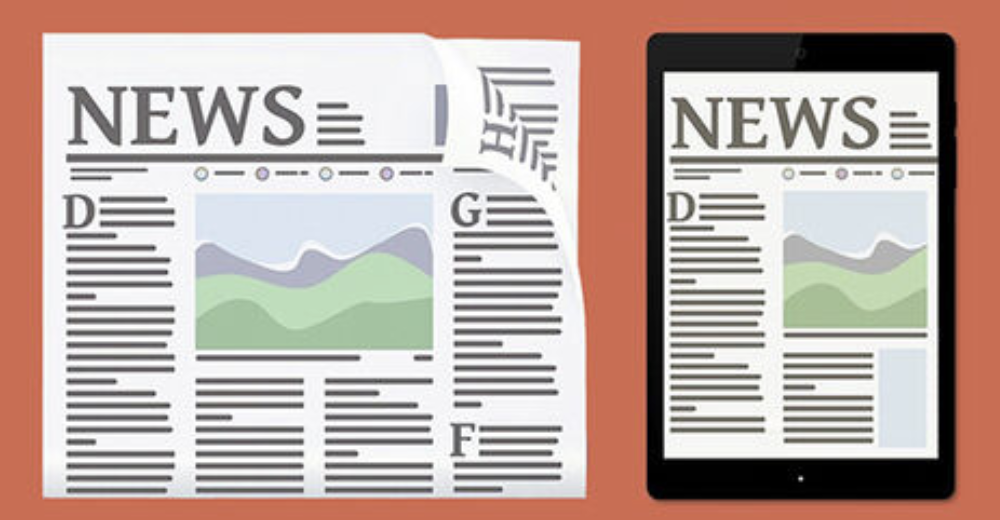 Print paper media vs digital ePapers media
Digitization has revolutionized the way we consume information.
What used to be printed on paper is most of the time
now also available in digital form.
Publishers have fully adapted to the digital age and
extended their reach beyond the traditional print format.

Most newspapers and magazines today offer
digital versions of their publications.
These digital replicas, known as ePapers,
are static representations of the print editions and
usually shared as downloadable PDF files.
This allows readers to easily access the content
on a device of their choice.




QR Codes (Quick Response Codes) are an important tool that
bridges the gap between printed paper and the digital world: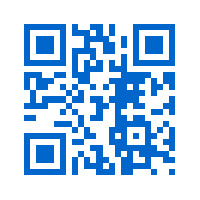 QR Codes have the capacity to store a wide range of data and,
provide instant access to the encoded information usually
accessed via a smartphone camera.

Today, QR Codes are omnipresent and newspapers and magazines
are using them to provide readers with quick and easy access
to additional, digital content.

This works very well in a printed publication,
where the QR Codes can simply be scanned
with a mobile device.
However, in a digital ePaper they rather are
a stumbling block in the user experience,
as accessing QR Code content in digital formats
like ePapers is not straight forward.




Maybe you've experienced this before:
You're reading an article on your smartphone and come across
a QR Code that offers extra information about the topic.

The tricky part is that you can't scan the QR Code
directly with your smartphone camera.
Sure, there are ways to get to the QR Code's content,
but these methods are often not very user-friendly.
In the worst case, you might just give up and
miss out on valuable content.

Ideally, you'd like to have clickable links within the ePaper,
that give you instant access to the QR Code's content
with a simple tap.

But to achieve this, publishers may face a problem:
ePapers are normally derived from the print PDF,
where the destination URLs are already encoded
within the QR Codes.
You would need to extract these URLs for each
individual QR Code to generate link annotations.

Thus, to improve the user experience,
it is important to optimize QR Codes for ePapers.




callas pdfToolbox helps you simplify and automate PDF creation
and allows you to overcome this QR Code challenge.

This is how you determine QR Code values and place icons + link for URL:
The solution is a callas pdfToolbox Process Plan that identifies
all QR Codes in a document, decodes their URLs,
and integrates a clickable icon on top of each QR Code
with the URL that was encoded in the QR Code behind,
providing a seamless way to access digital content
with just one tap.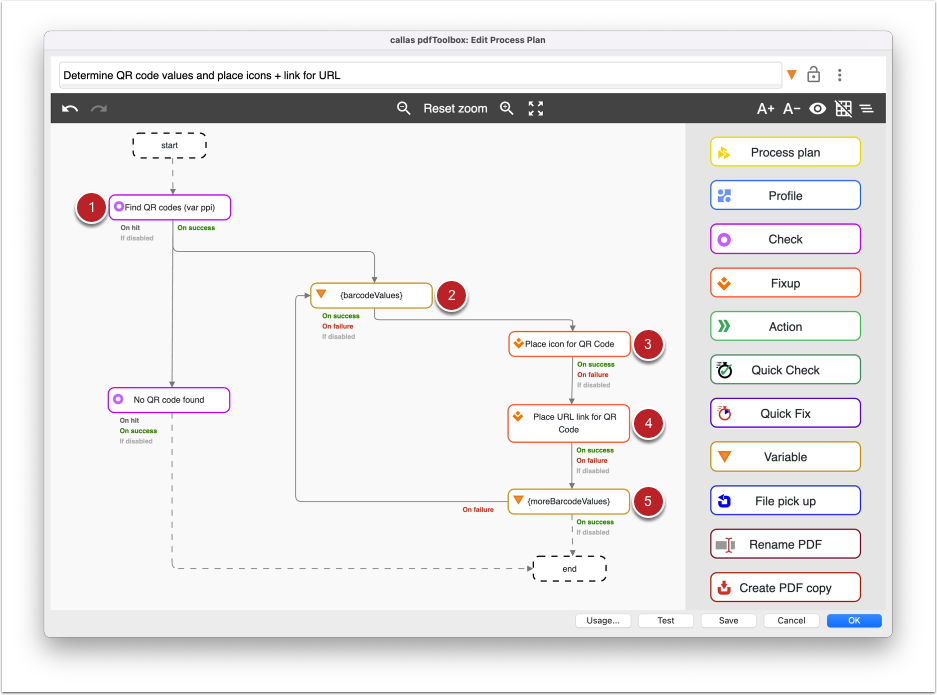 Processplan:
Determine QR Code values and place icons + link for URL
The image below illustrates the result:
Each QR Code in a document is overlaid with an icon of your choice.
To access the QR Code URL, readers simply click on the icon on
their digital device and can immediately see the related content.

The result after processing according to the Process Plan:
Determination of QR code values and placement of icons + link for URL

You can download this process plan for free (no cost)
(including a test file and icon) here:

During runtime you can specify which icon
you want to use for the link.

For a detailed article explaining
the different steps of the process plan, please see
"Place icons and link annotations on QR Codes" in:



Easy, Automated Impositioning


Impositioning is the action of placement of the pages on a press sheet
so that the sheet after printing and folding carries the pages in
the correct sequence in the finished printed product.

callas pdfToolbox scales, fits, moves, extends, rotates and
flips pages and page content easily.


It also imposes anything from simple booklets to fully-fledged
brochures and books, as well as doing N-up and step and
repeat impositions for digital printing.
Adobe Compliant Transparency Flattening


Handling PDF documents with live transparency when your workflow
or output devices don't directly support them can be really hard.



callas pdfToolbox effortlessly flattens those transparencies while
reserving text, images and line-art as much as possible and
without changing the intent of the document.


And you can rely on that result as it uses proven Adobe flattening technology.


Remote Configuration and Monitoring


Every callas pdfToolbox Server comes with a copy callas pdfToolbox Desktop.



callas pdfToolbox Desktop allows connecting to your pdfToolbox servers;
all configuration and monitoring of callas pdfToolbox Servers on your network
can be done over the network from the comfort of your own desktop computer.


Straightforward integration into any Web2Print or MIS environment

Of course callas pdfToolbox Server supports hot folders.


It also allows integration using the command-line (CLI) or
an extensive SDK ideal for embedding the latest PDF technology
straight in your Web2Print or order administration system.


callas pdfToolbox Multi-Server Productivity via Dispatcher


callas pdfToolbox doesn't even limit itself to one system.
By using automatic load balancing, callas pdfToolbox allows for
configuring a dispatcher that then distributes work across the network
to satellites running on different systems.


High performance coupled with easy setup and maintenance.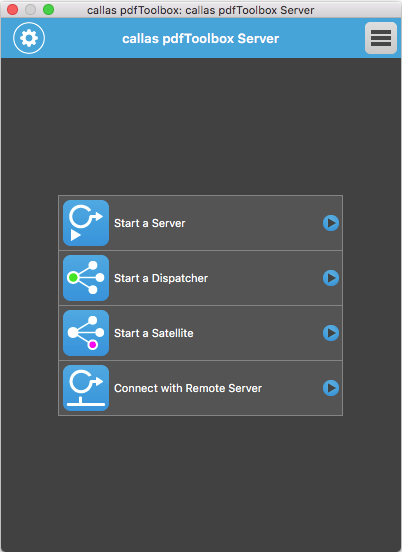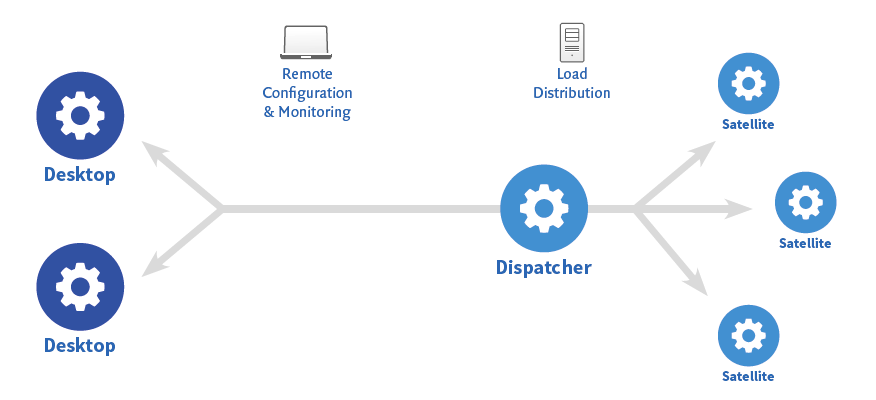 Allows for load balancing as well as for fail over configuration.


Processing of files according to "dispatcher-satellite" concept.


Dispatcher - a server that doesn't process files itself, but instead receives
files in its job folders and sends them to satellites to have them processed.


Satellite - a satellite is basically a regular server that will process files.


As many "satellites" as required can connect to callas pdfToolbox Dispatcher

so that processing does not stop even if one of the satellites is switched off.

Fail over - processing does not stop even if one of the satellites is switched off.


For dynamic allocation of cloud-based processing capacity services,
see callas License Server.





Automation of workflows


callas pdfToolbox integrates seamlessly with
FileTrain for automation of work flows.



PDF Processing Steps Metadata
Standardized PDF metadata for non-print / post-print workflows
PDF Processing Steps Metadata

callas pdfToolbox support interactive as well as profile driven evaluation,
modification and preflight of PDF Processing Steps Metadata.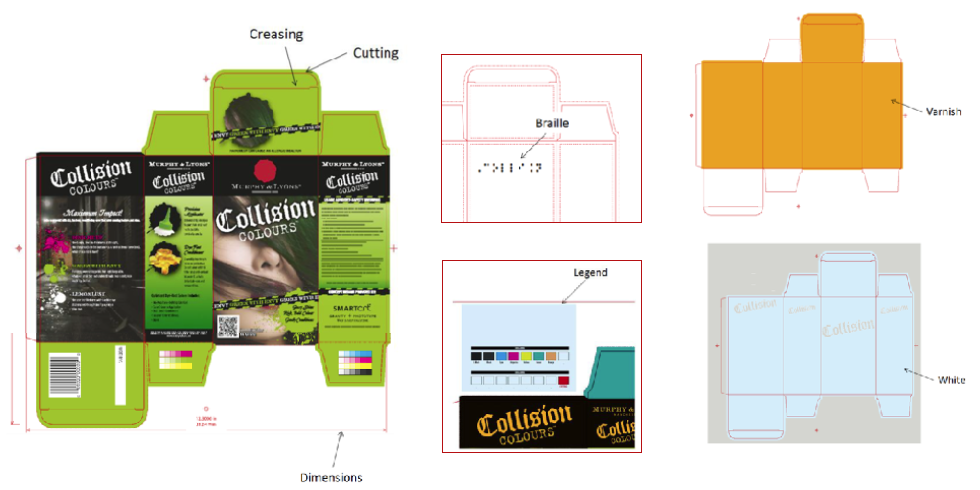 The Processing Steps Concept.

Processing Steps is a specification originally developed by
The Ghent Workgroup to associate metadata information
about non-printing and finishing processes
(such as cutting, embossing, varnish, conversion, Braille, …)
with a PDF document.

PDF files in packaging workflows commonly contain the design
to be printed and elements that are not printed, yet are crucial to
how the printed piece is going to be further processed.
A prime example is cutting and folding information which is needed
after printing, to cut a box to final format and fold it into its 3D shape.

The Ghent Workgroup identified years ago that a lack of
standardization in the way these "processing steps" elements
were contained in PDF documents, were a hindrance to
the acceptance of PDF as the standard format in such packaging workflows.



---
PDF Processing Steps Use Cases.

Layers can now have both regular metadata and
processing steps metadata attached to them.

The PDF Processing Steps metadata standard is of key importance for
packaging-, label- and large format-specific groups of processing-steps data.

PDF Processing Steps allows packaging and product developers and
designers to specify post-print workflow components with a PDF file
in a language-independent, vendor-neutral way.

PDF Processing Steps specifies how standardized post-print workflow elements
(e.g. cutting, folding) can be stored in a PDF file in a standardized way,
a substantial improvement over today's vendor-specific arrangements.

The standardisation is based on the ISO Standard 19593-1,
Part 1: Processing steps for packaging and labels, which defines
the use of PDF to associate processing steps and content data.




With the help of the PDF Processing Steps standard,
standardization of automation of processing steps
in packaging production can be improved substantially.

It standardizes metadata for layers to allow for interoperability between
devices in exchanging data for non-print processing steps. In addition,
it defines rules for objects on and interdependencies between layers.

It creates the possibility to add standardised terms to each layer to
help identify the layer in subsequent processing steps in the workflow.

This type of information has usually earlier been defined as
technical spot colors in a PDF.
For lack of standardization, everybody has been using different names,
which made workflow automation very difficult.




Processing steps metadata is primarily interesting for packaging since,
in addition to the printing objects, a good deal of additional information
are defined in a PDF for packaging.
This allows a language independent identification of these objects.

This is done by grouping page objects in layers
(technically: optional content groups, OCG), and adding metadata to
those layers to identify them as processing steps.

With ISO 19593-1, packaging production workflows can be significantly
enhanced to include specifications for cutting lines, varnishing, embossing,
add braille and more using standardized, language-independent metadata
together with PDF's Optional Content Groups (OCGs) feature.

When associated with OCGs, processing steps information allows
diverse authors, users or workflow operators to choose specific elements,
for example, to verify cut-marks, check colors, or other considerations.

Metadata can now be used for selective display of the elements for validation.
A marketing person is interested in other elements than a prepress specialist.
For proof output cutting lines, braille, etc. are also printed while for
CTP (Computer To Plate) output they are automatically omitted.

In addition, subsequent systems (e.g. impostion, embossing, braille)
which support this standard can retrieve the information relevant for
their processing step directly in the PDF data.




Use cases include:

metadata identifying processing steps;


limitations on the interaction between PDF graphics objects
that are part of a processing step and other PDF graphics objects;


limitations on PDF graphics objects in processing steps;


Easily identifying data corresponding to "Structural" finishing steps, such as


Bleed, cutting, creasing, drilling, embossing, folding,
foil stamping, folding, glueing, perforating, punching,
stapling, varnish free;



Braille in a document;


information panels;


indications of physical dimensions;


indications of intended positions of graphical elements;


printed white, for example on transparent or metallic surfaces;


printed varnish.




---
PDF Processing Steps Support in callas pdfToolbox.

PDF Processing Steps Metadata supported in callas pdfToolbox:

Setting


Checking


Adjusting


Reporting




Setting - In pdfToolbox, the processing steps metadata is filled out
for each layer using the pdfToolbox Layer Explorer panel.
Checking - Properties that can be used in Checks:

"Processing Steps metadata present"


"Processing Steps metadata uses custom values"


"Processing Steps metadata used for more than one layer"


"Processing Steps"

Presence of specified Processing Steps,
e.g. "Structural:Cutting"


Can be combined with any other checks
(e.g. color on Barcode, text or image on Cutting …)




Adjusting - Adjusting Processing Steps:

Configurable Fixups:

"Add Processing Steps layer metadata" to layer


"Modify layer name for Processing Steps metadata"


"Put objects on Processing Steps layer"


Plus: Relevant layer related Fixups can use Processing Step
metadata instead of layer names, e.g. "Remove layer":
Reporting - Processing Steps metadata is listed whenever layer details are reported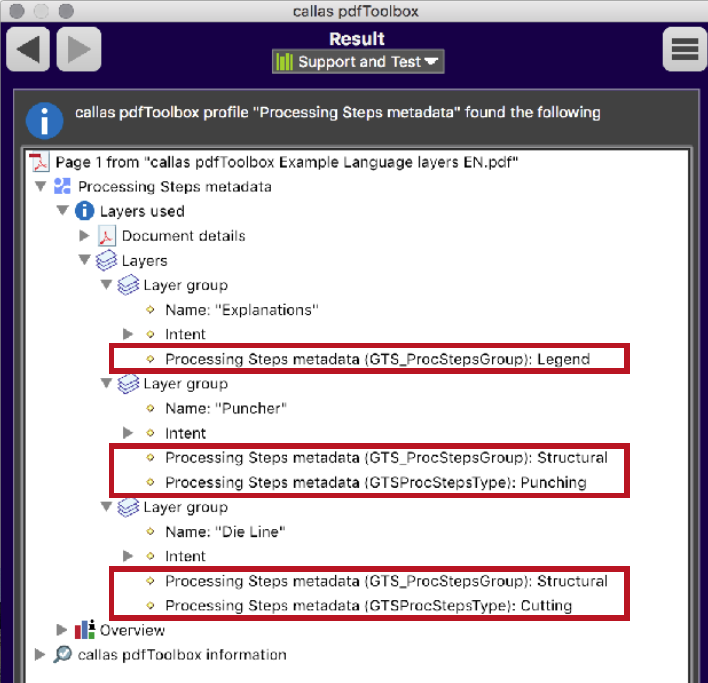 The non-print Processing Steps Metadata option,
and its interactive evaluation,
is also supported through the layer handling in
axaio MadeForLayers and axaio MadeToPrint
for Adobe InDesign and Adobe Illustrator.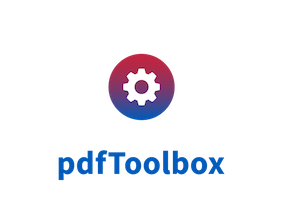 callas pdfToolbox DeviceLink Add-on
for callas pdfToolbox Desktop and callas pdfToolbox Server | CLI | SDK

Enables conversions via supplied DeviceLink profiles


callas pdfToolbox Desktop, Server, Dispatcher, CLI and SDK - Details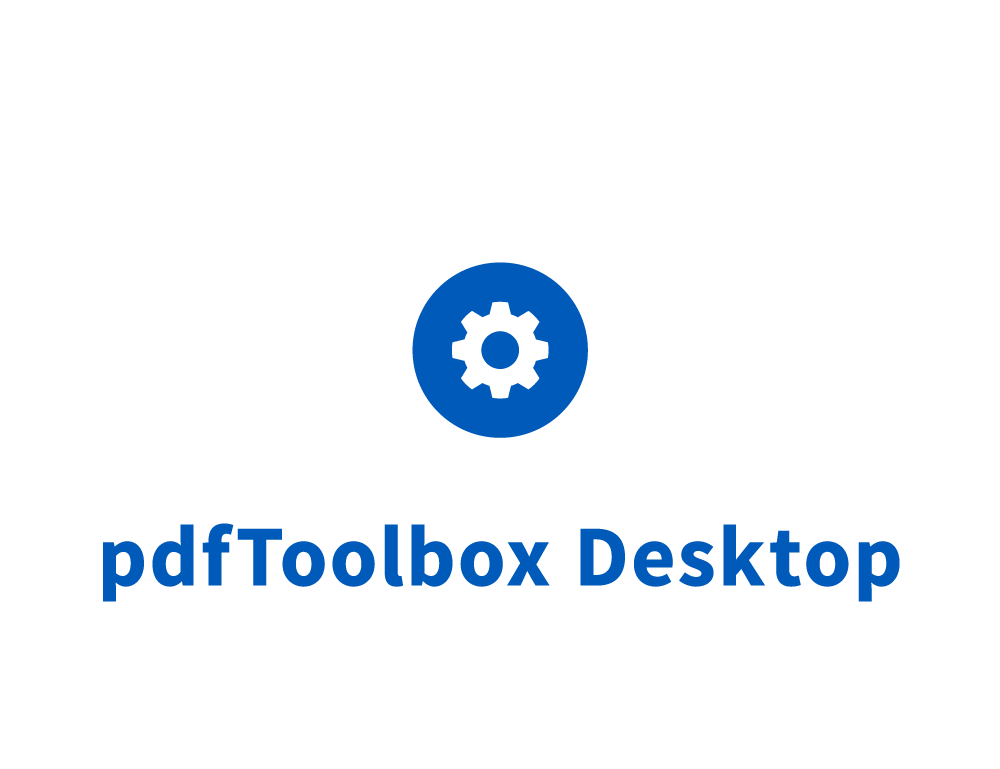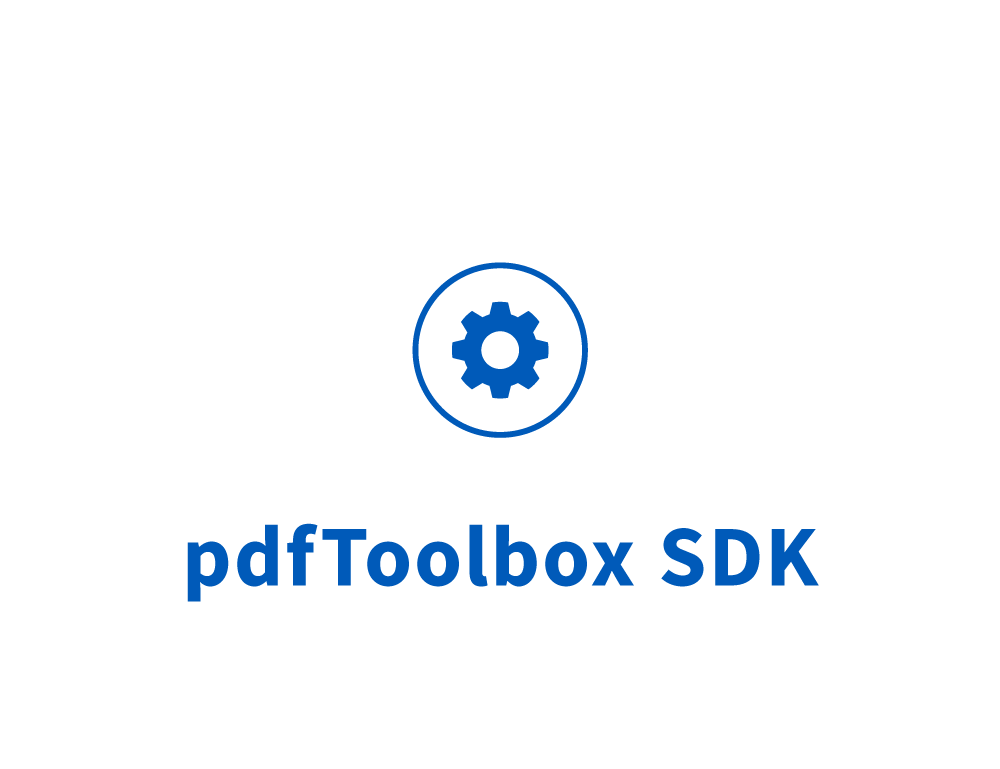 callas pdfToolbox Desktop, Server, Dispatcher, CLI and SDK - Popup-window with details
callas pdfToolbox Desktop vs Server - Feature Comparison Chart
Main features that are supported by
pdfToolbox Desktop and pdfToolbox Server.
When purchasing pdfToolbox Server,
a license for pdfToolbox Desktop is always included.
Click on chart for details.
callas pdfToolbox Desktop, Server, Dispatcher, CLI and SDK
Datasheets/User Manuals
callas pdfToolbox Desktop, Server, Dispatcher, CLI and SDK
Reference Cases/Customer Use Cases
---
For more information contact NewFormat
---
NewFormat AB
Smörblommegränd 14, SE-165 72 Hässelby (Stockholm), Sweden
tel:+46 (0)70 631 53 01
All content © copyright 2008-2023 NewFormat AB. All rights reserved.
All product names, trademarks and registered trademarks
are property of their respective owners.
---

callas software Partner