---


Part of NewFormat AB Portal


---


---
OpenFormat
Products and Services
Offerings / Promotions / Prices
Guides and Datasheets
---
Customer Contact Form
Home/NewFormat
---
NewFormat AB
Standards make the world work
---
Our solutions are based on
tested, reliable, and highly accessible software solutions.
NewFormat is Appointed Reseller and Solution Partner in
Nordic (Sweden, Denmark, Finland, Iceland, Norway)
and
Baltic Region (Estonia, Latvia, Lithuania)
of Picador from treeDiM, France.
---
treeDiM
treeDiM is independent CAD and Product Lifecycle Management
software developer for the packaging and POS/Display markets
providing a full set of tools dedicated to packaging design,
optimizing and improving the productivity of all
packaging production or packaging purchase processes.
---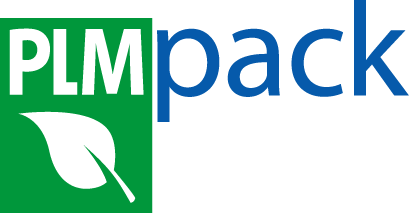 treeDiM PLMPack
Collaborative Product Lifecycle Management (PLM)
for optimization and eco-design packaging systems.
Software components:

Picador, 2D/3D structural design of cardboard packaging and POS/Display



PLMPack - Supporting Modules:

PLMPackLib, a set of libraries of parametric packaging models


PLMStackBuilder, for palletizing, case packing, and truck loading optimization


PLMPackStress, calculation of packing and stacking resistance



Each software component can be used independently,
but their association within the platform allows to search through
the choice of materials, types of packaging (conditioning or transport),
and stacking optimization (packing, palletizing, truck loading) an optimized
solution of the packaging system and automatically get a
report of eco-design with all the technical documents
(packaging drawings, packing, palletizing, loading document, bill of material,... ).




The PLMPack platform provides software tools to design the entire packaging system:

choice and resize of primary and secondary packaging with PLMPackLib,
the parametric library of standards,


optimization of packing, palletizing and loading truck with PLMStackBuilder,
the optimization software combination.


choice of material with PLMPackStress for calculating resistance.



The PLMPack platform is developed in Open Source to allow the widest possible
dissemination and create a community of contributors to
software development and content enrichment.

More than 15.000 users use PLMPack software daily in the world.
---
---
PLMPack Webinars/Video Recordings and Demonstrations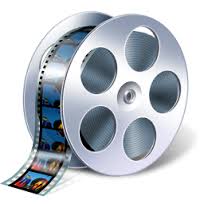 Video Demonstrations of PLMPack - Popup-window
---
treeDiM Picador & PLMPack Training
treeDiM Picador & PLMPack - Instructor-Led Training
---
PackLib is a set of dynamic libraries of
resizing packaging standards (ECMA, FEFCO) or creatives models
PackLib is a software for management and the use of 2D, 3D and parametric libraries;
parametric model libraries of packaging and cardboard displays.

PackLib is also a fully integrated module in Picador,
the CAD software for packaging design, packaging, POS, display, ...




PackLib is designed for the optimization of packaging systems,
the PackLib module includes many services:

Access from as many computers needed


Graphic navigation


Standards Packaging Libraries (ECMA, FEFCO)


Intra-company exchange platform


Animated 3D visualizations


Parametric resizing


Downloading models (Packaging, POS, PAV, etc ...)


Imposition / nesting


Help with cost estimation


Optimization of palletization
PackLib Use Case
Integrated tool to optimize design processes and to simplify digital workflows
PLMPackLib allows consulting a list of parametric packaging plans
(essentially carton and corrugated, ECMA, FEFCO, POS/Display).
Optimization of layout, packing and palettization is provided for each parametric model.
It is written in C# (.NET 4.0), and uses SQLite as database.
Samples of parametric standard models
Samples: ECMA A Series

Samples: FEFCO F200 Series

Sample: FEFCO F427

Samples: POS Displays

Export of parametric standard models to other applications
Export to ArtiosCAD, Cape Pack, Solidworks, KASEMAKE, Illustrator,...
using standard formats for
2D (CF2, DXF, AI, PDF,...) and 3D (Collada, PDF 3D, Picador,...)

Note! The correct path for the application is entered with the button […])


PackLib can be hosted on Microsoft Azure Cloud
The common database (FEFCO, ECMA, ...)
gets upgraded automatically and is always available.
By creating account and groups you can share your
projects with your team, your partners or providers.
---
StackBuilder is a palettization software to manage
packing, palettization, and truck load of homogeneous case stacking
StackBuilder is also a fully integrated module in Picador,
the software for packaging design, packaging, POS, display, ...




StackBuilder is free software, to design and optimize:

the packing (articles per case),


palletizing (boxes per pallet), and


shipping items (pallets per truck)




StackBuilder is developed as open source to allow the widest possible dissemination and
to create a community of contributors for software development or enrichment of content.
StackBuilder helps to solve 3 problems:

palletization: given a case and a pallet, find the best layout to stack the case,


case filling: given a set of cases, find the best case and the best way to fill it,


optimal case search: given a box, a number of box per case and a pallet type,
find the optimal case layout and dimensions.




For the moment, PackBuilder builds solutions using homogeneous packaging layers
in which the vertical axis remains the same.
It can not provide solutions in which a "turned" case is used to fill remaining space.




StackBuilder can not handle heterogeneous problems such as:

palletizing with different types of cases,


producing solutions that do not rely on layers




StackBuilder is a simple to learn,
allowing you to move forward with a global vision of the supply chain of your packaging.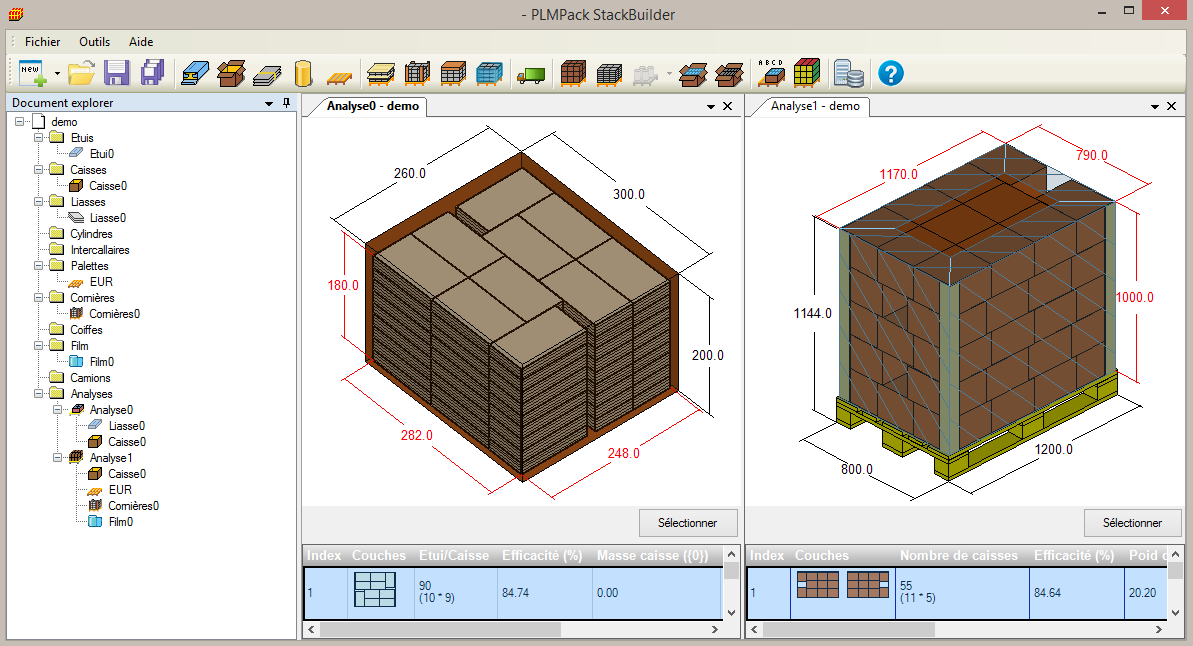 StackBuilder has many features to meet your needs:

Analysis - Box / Case Palletization


Packing optimisation - Articles per box


Calculate the optimal packaging system: Article / Box / Pallet


Search for the optimal packing solutions in your database of boxes solutions


Cylinder palletization


Bundles palletization


Add interlayers, corners, film, cap


Databases of box solutions


Truck Filling


Analysis reports


BCT Calculation - Box Compression Test Strength (BCT) calculation




With the PLMPack platform StackBuilder is a fully integrated module in Picador,
the software for packaging design, packaging, POS, display, ...

StackBuilder brings many new features, such as
packing flat cartons, adding corners, pallet cover, protective film.
The user interface has also been redesigned to provide better interactivity.


Download StackBuilder v3


---
StackBuilder Analysis Report
Support for publishing and editing of palletizing reports
in .doc (Microsoft Office), .odt (OpenOffice.org) or html.
---
StackBuilder Solutions Database
Palletizing solutions can be stored in a solutions database, so they can be reused,
compared with other solutions, or be used to optimize the packaging.
---
StackBilder Online User Guide:
---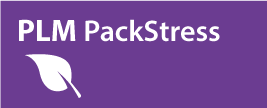 PackStress is a Simulation Module for Packaging Resistance
PackStress is a fully integrated module in Picador,
the software for packaging design, packaging, POS, display, ...

PLMPackstress is a RCV calculation module for packaging resistance simulation.


Optional calculation/simulation parameters:

Choice of Packaging Type


Customizable Materials Profiles


Palletization Type


Consideration of Storage Environment (such as level of humidity)


PLMPackStress can be used directly in another Application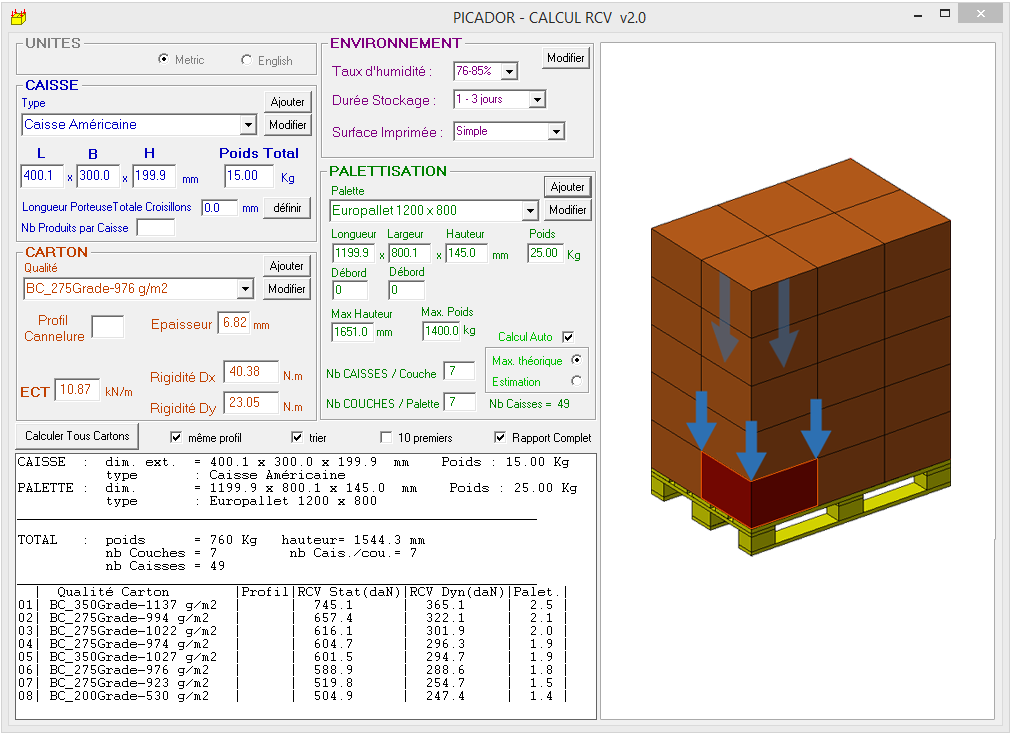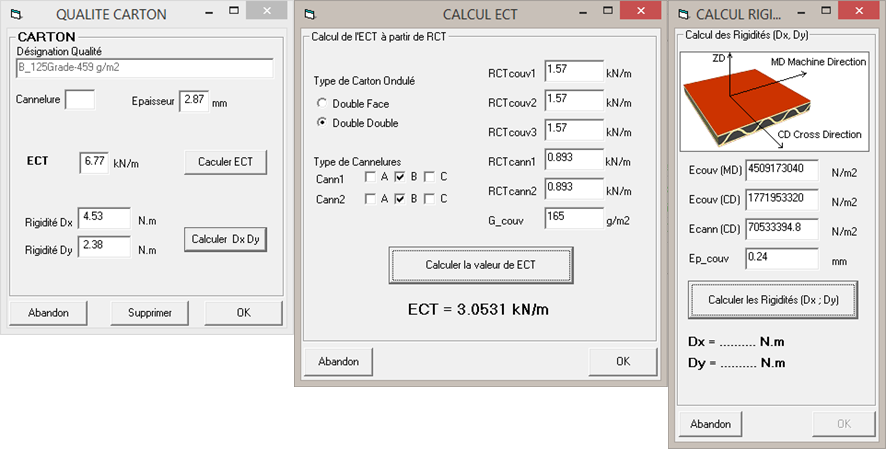 ---
For more information contact NewFormat
---
NewFormat AB
Smörblommegränd 14, SE-165 72 Hässelby (Stockholm), Sweden
tel:+46 (0)70 631 53 01
All content © copyright 2008-2023 NewFormat AB. All rights reserved.
All product names, trademarks and registered trademarks
are property of their respective owners.
---

treeDiM Partner