Products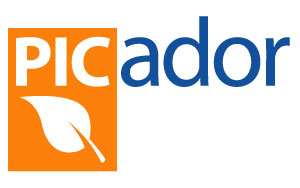 The CAD software for packaging design
---

Click Here for Free Trial of Picador
(You will be asked to fill in a trial request form.
To help us identify your interest for Picador
and support you, please enter the code
"NewFormat, Sweden"
in the Preferred Reseller form field.
Picador 8
Picador 8 brings many new or improved features for
structural design of packaging and pos/display (2D, 3D),
for fast protyping on cutting tables and digital printers,
and for optimization of global packaging system (eco-design, packing, logistics).
Recently added and improved features in Picador 8:

The 3D part assembly system has been redesigned
it has never been so simple and fast.
Many models have been added in PackLib (packaging, display counter, POS/Display)
A clearer 2D interface with new tools to facilitate structural design.
Parametric Module simpler and more powerful.
Inclusion of new features for cutting (camera, Vcut, optimization).
Enhanced palletising module with new optimization and configuration functions.
Picador Tools and Key Features

2D

Picador geometry tool for plan drawing and design of packaging cartons.

In addition to conventional 2D drawing tools,
Picador features many dedicated tools for packaging design;
catalog management, setting technical specifications, taxation/nesting, import/export ...

Structural design
Specific drawing tools for packaging and display
Import/Export (PDF, EPS, AI, CFF2, DDES, DXF, DWG, IGES, HPGL, DIECAD (.N)
Lay-out/Step and Repeat
Parametric design




3D

Picador 3D is a powerful and easy to use tool to set volume 2D plan drawings.

Creating 3D folding, textured packaging, 3D PDF export ...

Automatic 2D/3D folding
Folding/unfolding 3D animation
Printing files or texture positioning
3D animated assembly
Creation of interactive and animated 3D PDF
Create visual user instructions
Import of CAD objects and 3D textured model
Augmented reality view of 3D models




Cutting

The cutting module adapts to control all market cutting tables.

Manage all cutting tables:


AOKE, ARISTO, BLACK&WHITE, DATA TECH, ELCEDE, ESKO KONGSBERG,
GRAPHTEC, IECHO, INFOTEC CNC, KIMLA, LASERCOMB, MECANUMERIC,
MIMAKI, SEI, SUMMA, WILD, ZUND, ...

Prototyping and small series productions
Tools settings according to the used material
Automatic optimization of tools path




Database of Standards

Complete catalogs of packaging and POS/Display models to resize.

ECMA, FEFCO, corrugated cardboard packaging, packaging.
Manage new parametric design models directly in Picador,
and you have the ability to create your own professional library.

Packaging Standards libraries: ECMA, FEFCO ...
Specific packaging and POS/Display libraries
Automatic thickness management
3D folding animation
Download new library and access to tutorials
Export to Adobe Illustrator, PDF, Picador ...
Optimize: lay-out, case-filling, palletizing
Create your own parametrical models in Picador
Synchronise the database on your network




Eco-design / Palletizing

Palletizing module to optimize the design of packaging.

Filling cartons/case, palletizing, truck filling
Optimal case calcul
Material choice assistance
Strength analysis
Automatic analysis report




Many features dedicated to logistics optimization:

Palletizing funds,
Filling Cases / Case,
Search Optimal cash: cases / packaging, secondary / pallet
Palletizing bundles (cases or case flat),
Palletizing cylinders
Added: interlayers, cap, protective film, angles ...
Picador Benefits

2D

Speed up packaging and POS/Display structural design and make the result more cost effective:

Contains all the geometrical tools needed for effective packaging design:
Geometry, Construction, Quotation, Hatch, Text and Image
Study and Production functions: Data Sheet, Calculation (Surface, All out, Nets)
Nesting, Imposition, Tools (Cutting, Slotting, Perforating),
Cardboard Format, Plotter Output, Image Insertion and Digitizing
Easily convert an existing draw into a parametric model
Standards Libraries to resize at your own convenience
(ECMA, FEFCO, POS/Display and Packaging)
Additional Diemaker tool:
Bridge, Cutting width nets (points), Wood format and Easy set
2D Import/Export: AI, EPS, AI, CFF2, DDES, DIECAD (.N), DXF, DWG, HPGL, IGES, PDF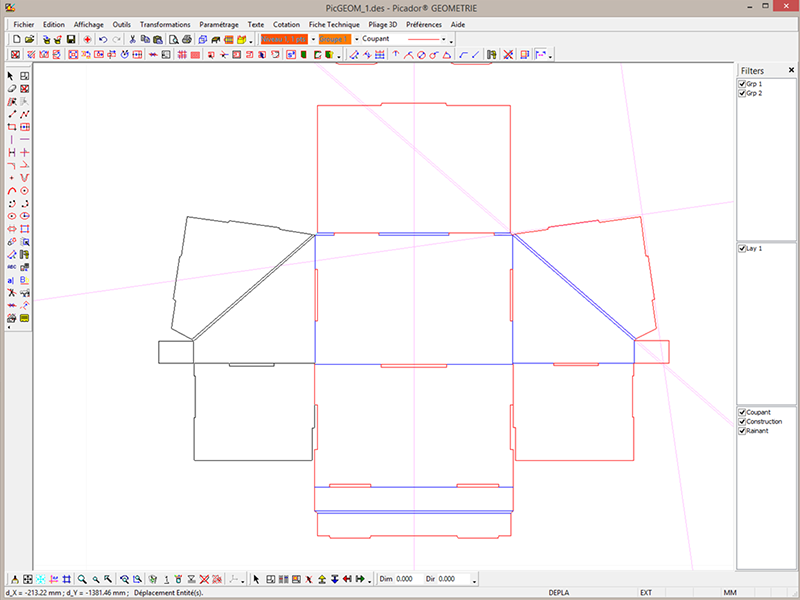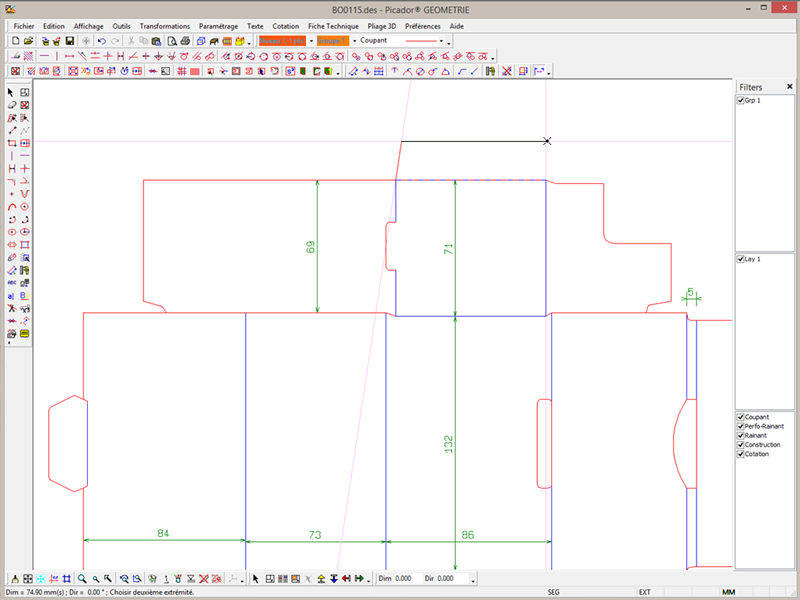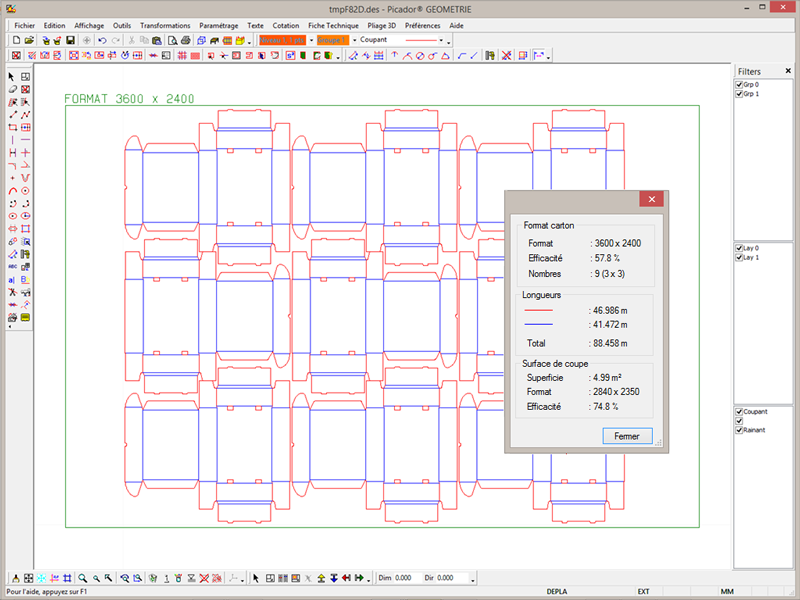 3D

Picador's built-in 3D capabilities allow for easy assembly simulation and virtual prototyping:

Direct transfer of 2D model into Picador3D
Automatic 2D/3D folding
Folding and unfolding 3D animation
3D assembly, exploded and sequenced view of animated assembly
Create an interactive and animated 3D PDF for easy exchange with stakeholders
Printing files or texture positioning
Imported graphic images and illustrations may come from software like
CorelDraw™, Adobe Ilustrator™, Photoshop™, QuarkXPress™ (Mac or Windows)
Import of CAD objects (IGES, IGS, STEP, STP)
Import of 3D textured model (3DS, DAE, OBJ, STL ...)
Interactive positioning, congestion calculation,
intersection calculation for wedging achievement.
3D Export (Augmented Reality, DAE, STL, WebGL)



From 2D to 3D to Packing on Pallet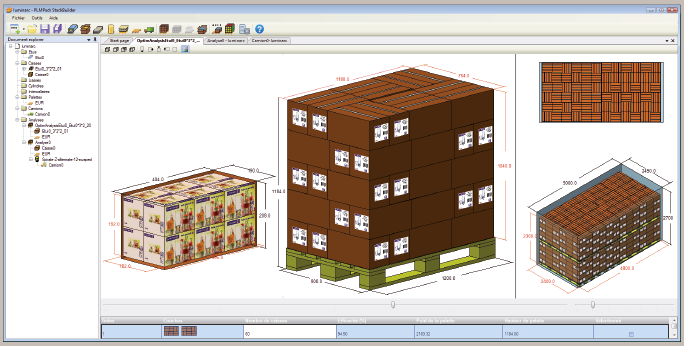 Visualize Packaging in 3D on Store Shelves
Augment Export - Augmented Reality (AR)
Visualize Packaging in 3D in an augmented reality environment

Cutting

Beyond design and visualization,
Picador also allows for creating physical prototypes or low volume production
by driving cutting tables and shaping lasers:

Controls a large range of supported cutting and laser tables
Allows for multi-model imposition, format and automatic optimization of the tools path
Automatic speed and pressure setting according to the used material
Parameters for tangential knife (fixed or oscillatory), creasing, pen,
cutter, laser, waterjet-cutting or milling
Simulate cutting on your screen
Additional diemaker tool: laser cutting
(bridge, nets width, flat and rotating forms, nets cutting, wood format ...)
Standards

Several packaging and POS/Dislay models are accessible in Picador's standards catalogues:

Parametrical standards of folding carton and corrugated cardboard (ECMA, FEFCO, POS/Display)
Create a new library via the download area
Create parametrical models in Picador in order to create your own professional library
Length nets calculation, cutting surface imposition according to the forms and machines, lost
Reusable plug-in with other applications (components dll .NET )
Save your time and reduce errors



Samples: ECMA A Series
Samples: FEFCO F200 Series
Sample: FEFCO F427
Samples: POS Displays
Palletization

Picador handles logistic optimization, palletizing, packing and truck loading:

Easy to use
Many features dedicate to palletizing and logistics optimization:
case palletization, filling cartons/case, optimal case calculation,
palletizing bundles (flat cases or cartons),
adding interlayers, cap, protective film, angles ...
Database of boxes in stock
Automatic analysis report
Strength analysis



PLM StackBuilder Palletization
PLMStackBuilder Report
Use case
---
Picador System Requirements

Microsoft Windows 7, 8, 10
CPU 2,5Ghz, RAM 2 GB / Recommended 4GB or more
Monitor: 24" or more



Important: (for Windows older than 2011)
PackLib and StackBuilder require Microsoft Framework .NET 4.0 Full or higher




Picador runs on Apple macOS with virtualizers, like VMware Fusion and Parallel Desktop.
Picador Setup / Installation

The Picador user interface is easily configurable to be in:
- English, French, German, Italian, Japanese, Polish, Spanish, and Chinese (Simplified).




The setup wizard automatically install all modules:

Picador 2D
Picador 3D
PackLib (template libraries, ECMA, FEFCO, POS/Display)
StackBuilder (packing, palletization, truck load)
PackStress (calculation of packing and stacking resistance)
Import/Export
(AI, COLLADA, DXF, CFF2, DAE, DDES, EPS, FBX, IGES, OBJ, PDF, PLT, STEP, STL)





Complementing modules - require separate download and setup

Cutting Module Setup with post-processors to manage cutting tables and lasers:

AOKE, ARISTO, BLACK&WHITE, DATA TECH, ELCEDE, ESKO KONGSBERG,
GRAPHTEC, IECHO, INFOTEC CNC, KIMLA, LASERCOMB, MECANUMERIC,
MIMAKI, SEI, SUMMA, WILD, ZUND, ...




Viewer and Converter.
PicViewer is a free software that allows you to view technical drawings
made in Picador DES format, manipulate them (add dimensions, ...),
and to export them to the industry format that you want to use:

AI, CF2, DWG, DXF, EPS, PDF,... and other formats
Convert Bezier/Spline/Nurbs in Arc
Annotation, Measure...
Dimension in inch or mm




Display thumbnails in Windows Explorer for Picador and Picador 3D documents.

Picador SDK: PicXDK - ActiveX Components.
---
For more information contact NewFormat
---
NewFormat AB
Smörblommegränd 14, SE-165 72 Hässelby (Stockholm), Sweden
tel:+46 (0)70 631 53 01

All content © copyright 2008-2019 NewFormat AB. All rights reserved.
---

treeDiM Partner